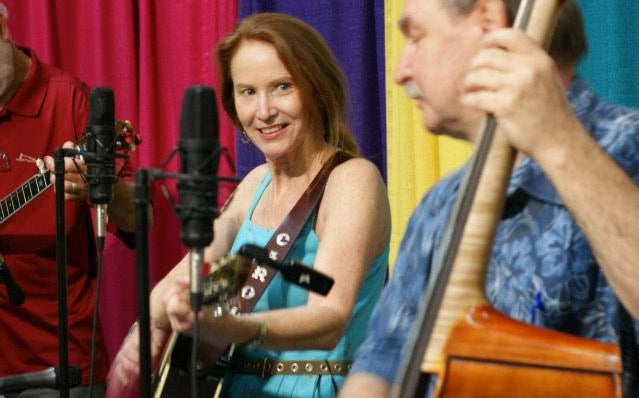 I almost bought pumpkins at my local garden center last weekend. It was just mid-September, but the nip in the air confused me. It told my autumn-ready brain that the dog days of summer had passed and now it was time to put on a sweater, plan my Halloween costume, and cover every inch of my porch with gourds.
Luckily, some still-blooming daisies caught my eye and pulled me back from the edge. I walked on. But imagine my relief when I learned that I'm not the only one in a fall frame of mind. Carol Rifkin, the lead in North Carolina string band
Carol Rifkin & Paul's Creek
, is eager for her fall rituals too.
Hers involve a trip to the
Heritage Weekend
, a celebration of Southern Appalachian life and culture, outside Asheville. And lucky for Carol, now is
exactly
the time for her tradition. The festival starts tomorrow and runs through Sunday, ushering in the official beginning of autumn.
If you're anywhere near North Carolina's mountains, you might swing by. You'll be able to tap your toes to old time and bluegrass music, meet artisans who are keeping Appalachian traditions alive, cheer
whimmy diddle
contestants, and maybe even trade notes with Carol on your favorite fall rituals.
*
I love when fall comes to the mountains; it gets cool in the morning and crisp at night but not too hot in the afternoon. Leaves start to fall into Paul's Creek as it runs by my house and orange jewel weed pokes its head up over the creek bank. It is perfect for sitting on the porch playing fiddle or singing a mountain song. Musicians and folk artists all thrive in the fall and come together for crafts, square dances, apple picking, and more before winter sets in.
Playing at Heritage Weekend at the Folk Art Center on the Blue Ridge Parkway outside Asheville, North Carolina is part of my fall ritual. The Folk Art Center and the Southern Highland Craft Guild are steeped in the same kind of traditional lore as the mountain music I love. The artists who exhibit there know each other in much the same way traditional musicians in the region do. It just all goes together.
My favorite thing about Heritage weekend is how committed the artists who show and demonstrate their work are. Any one of them will take the time to show you how something works or how something is made or to share a story. They love what they do like we love the music. You can feel the long history of it there.
The audience is always so appreciative and receptive. It's an event where people are there because they believe in what we do and in what the folks at the Craft Guild and Parkway have worked for all these many years. It's a comfortable gathering of old friends welcoming new friends as repeat visitors (there are many) and new attendees join the fold, saunter through the art, or gather near the stage. I always try to make time to see the Martin Carvings and the Pisgah Pottery in the second floor exhibits; they are personal favorites.
As a longtime member of the music community, I am often asked to support events and organizations, but I'm only able to fit in a few. This Heritage Festival and the twice-annual Southern Highland Craft Guild Fairs at the Civic Center get my total attention and support. They are important links in the preservation of Appalachian culture and a tremendous asset in the education of the public.
The festival's free to the public and has the air of an annual family reunion or birthday party. I often see whole families there together, grandparents, kids and grandchildren playing on the grounds. Familiar faces return each year, new ones join in, and the kids on the clogging teams get taller. It's a fall gift before winter sets in. And it's just pretty darn fun. Join us. Y'all come.