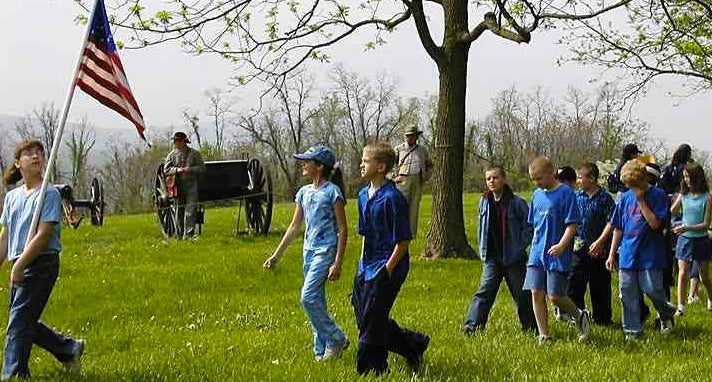 Let me guess. Summer is only halfway through, and if you hear the kids play one more round of Mario Kart in the backseat, you're going to start snatching hair.
It's understandable. After a few weeks of pool trips and local hikes, you start running short on kid activities. Lucky for you (and your children's scalps) there's a fix. Just point the car toward Harpers Ferry and keep on driving. When you get there, you'll be thrilled to find that this historic town is full of kid-friendly activities. Since Harpers Ferry is both a functioning burg and a National Park, it has double the resources and double the fun.
I'd start by parking in the small lot by the old-fashioned train station. As soon as you step from your car, you'll be facing kid stop number one--
Scoop's Ice Cream
. This small cafe boasts every flavor from vanilla frozen yogurt to apple pie ice cream complete with homemade cones.
Once you have the kids good and sugared up, turn the bend and you're smack dab in the middle of Harpers Ferry National Park. There you'll find locals in period costume, ready to explain any question your kids can think up:
Where did you go to the bathroom when there wasn't plumbing?
Check.
How did ladies sit down in hoop skirts?
No problem.
Why would anyone enslave another person?
I'm sure you've been dreading this questions, but here you can let the interpreters handle it. They live for this stuff.
They also have great props like soldiers' tents and reproduction muskets, which blow the dust off history and bring it back to life. These materials are used in hands-on demonstrations with themes that vary from day to day. "It could be anything from getting in the river and looking for natural invertebrates," says the park's education specialist Amber Kraft, "To going up in our new period garden and learning about where food came from during the 1800s."
Don't tell the kids, but working alongside the period-garbed interpreters is Renee Haines, a real school teacher. She teaches at Martinsburg High. With help from her students, she is happy to educate your little ones about the importance of watershed resources. There couldn't be a better location for this topic, because Harpers Ferry sits at the confluence of two great rivers--the Potomac and the Shenandoah.
If you have time before you leave home, you can show your youngins the town's quirky positioning--between the rivers and at the junction of three states. You can also take them to a webpage that was built just for them. 
Of the Student, For the Student, By the Student
is a special section on the the National Park Service Website that was created by intrepid middle school students. They researched historic source documents, picked up video cameras and made a series of fun clips that introduce young and old alike to the town's fascinating history. My personal favorite includes a rap like no other:
[youtube]urt7JzT5tpg[/youtube]
Woop. Woop. That's right. Props to John Brown.
Not only does Harpers Ferry make history fun, it also boasts
great hiking
;
rafting, tubing and kayaking
;
family-friendly restaurants
, and 
ghost tours
. The list goes on and on.
Think that's enough to get your kids to put down the DS? Have a favorite kid-friendly spot in Harpers Ferry? Post a comment below and let us know what you think.