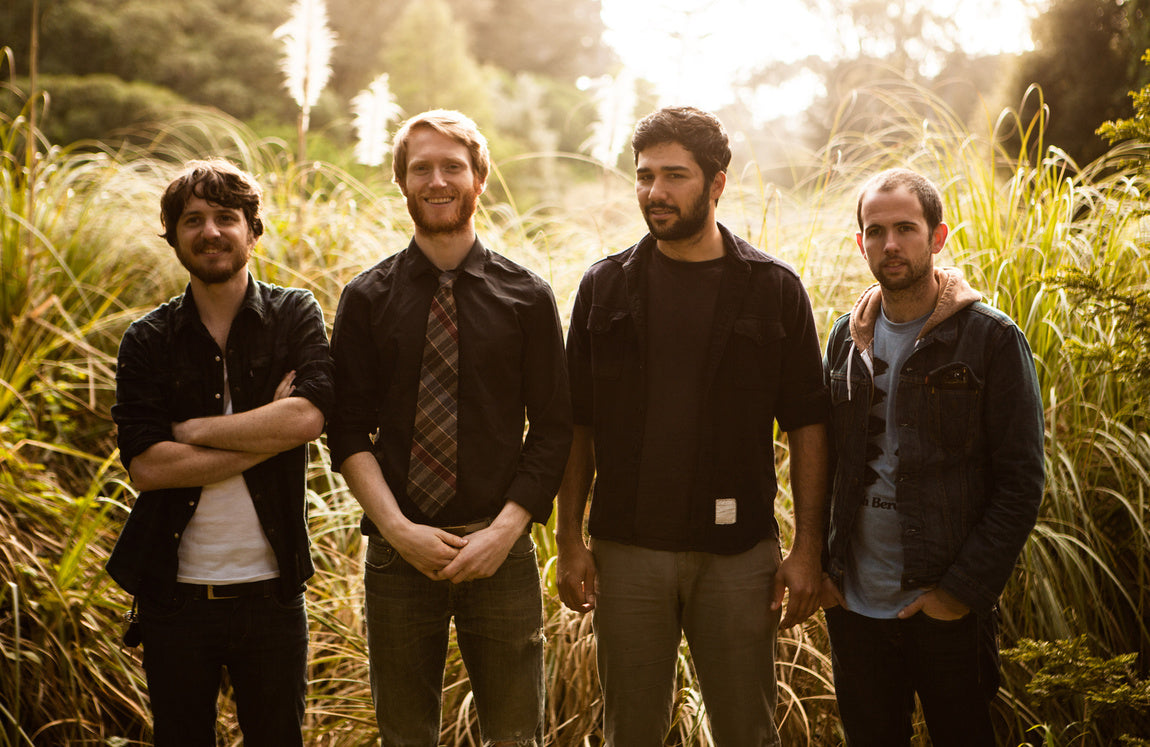 To get your head around the band Goodnight, Texas, you need to know your geography. When the group formed, Avi Vinocur was living in San Francisco. His songwriting partner Patrick Dyer Wolf lived in Chapel Hill, North Carolina. Since a cross-contintal collaboration defined their work, they adopted the name of a town that lied halfway between them— Goodnight, Texas.
It's a really amazing moniker, one that feels classically American and, at the same time, serves as a great media hook. (Try finding an article that doesn't mention the name's quirky origin.) But this week I talked with Avi and learned that The Lone Star State has a lot less to do with the band's substance than another region steeped in American tradition.
You see, he spent a lot of time in the Appalachian South, visiting relatives, roaming our blue rolling hills. The stories he heard and the people he met sparked his imagination and ended up influencing everything from the band's sound to its album art.
Below, Avi tells us how the region's industrial history has inspired him and shares a special photo that underpins one of the band's most popular songs.
*
TR: Avi, let's start off with your Appalachian roots. While you were raised elsewhere, you spent a lot of time in the mountains. Whereabouts?
AV: I was raised in Connecticut and Los Angeles. My family, however, hails from around Hagerstown, Maryland and Martinsburg, West Virginia. I grew up going out there relatively often and saw a lot of American history in the process. Our family's basement was full of crazy artifacts dating back to the American Revolution, like a grandfather clock made in 1774 that we still have.
TR: What about the mountains inspires you?
AV: My family lived near a switching station in Brunswick, Maryland up until the 1940s and some relatives worked on the railroad. Hard labor jobs were about all you could find in the area in the mid-1800s up to the early 1900s, and they ended up being the strength that built entire cities as the U.S. expanded. Industrial labor has absolutely worked its way into my songwriting. I am intrigued by a world pre-internet, when geography and circumstance played a large role in who people were.
[caption id="attachment_10291" align="alignright" width="280"]
Historic photo behind song "Jesse Got Trapped in a Coal Mine."[/caption]
TR: Some of your songs are even tied to family history, right? One of my favorite tunes is "Jesse Got Trapped in A Coal Mine." Can you tell us more about Jesse?
AV: This is not a family story, just one that I made up, but it reminded me of the types of old stories that do get passed down from generation to generation. The types of stories that reach a point in a game of telephone that you aren't even certain they are true—but you continue the chain by passing them on anyway.
TR: Did your bandmates always share your Appalachian-enthusiasm or did they adopt it?
AV: Patrick and I had always shared an interest in rural American history, so the themes made sense from the get go. His family comes from Buffalo, New York; Central Pennsylvania; and Ireland, so he is no stranger to a hard history.
TR: If you could play one song with one Appalachian artist, living or dead, who would it be and what song would you play together?
AV: I'd love the chance to play with Jimmie Rodgers. I suppose he's a southerner, and more of a country-folk guy, but close enough. Maybe on the steps of the gorgeous old Post Office in Bristol, Tennessee in the late 20s. Any one of his blue yodels. Although I wouldn't want to contract his tuberculosis.
TR: You all include a lot of historic photos in your album art, and you're sharing a special one with us today. Can you tell us a little about it and why old photos mean so much to you?
Many photos in our album artwork were found in old boxes, and I am not sure if they are family or friends of our family or no relation at all. This picture is one I have stared at for a long time. I often think of this man as the Jesse character from our song, and I'm not sure why. There is something so innocent and simple about him. I'm not sure what captivates me about these old photographs, but I am mesmerized by how completely forgotten these people are. They probably had husbands, wives and children, impressive stories, hardships - but none of them exist now. All that remains of their long lives are these pictures.
TR: These pictures...and your songs. Thanks for taking the time to talk.
https://www.youtube.com/watch?v=KprhCjauwiI