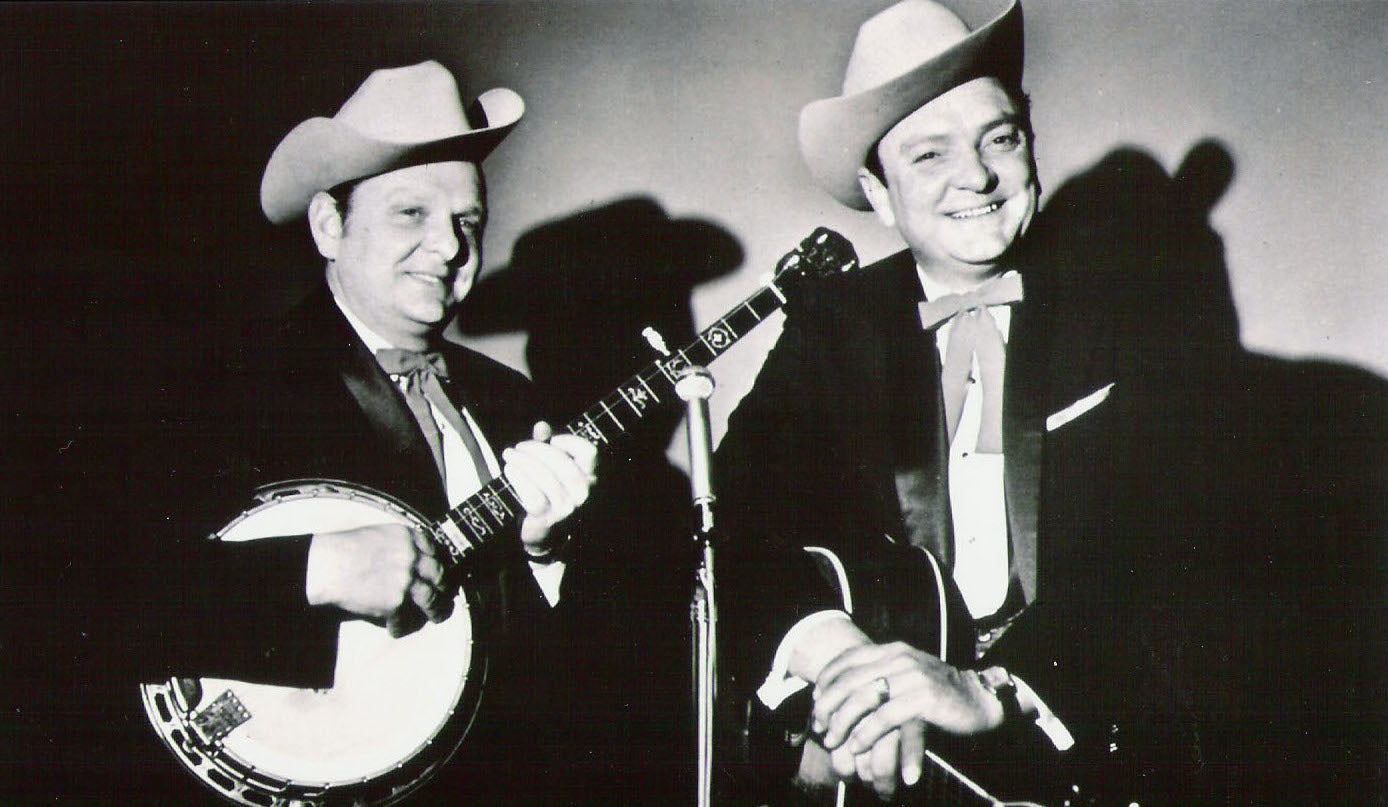 Raise your hand if you're a Stanley Brothers fan. Mine is waving in the air right now. Their signature sound—sorrowful yet sweet—has enchanted generations, and part of its appeal ties to our region's history of outward migration.
In the mid-1900s, mountain folk flocked to industrial towns. Today, we leave for desk jobs in major metros. The work has changed, but the pattern is the same, and I, of course, am part of it. As an Appalachian migrant living in DC, I am enthralled by the generations who left before me and by the music that helped them stay connected to home.
So is today's guest blogger. Luke Floyd is an avid fan of mountain music and a student at Georgia State University. He sees deeply emotional ties between the Stanley Brothers and Appalachian migrants from the last century. The patterns he's uncovered sure strike a chord with me. I wonder if they do with you too.
Have you ever left your homeland for a stretch? If so, how do songs like the one below leave you feeling? 
*
With a voice that sounds as old as his native Virginia hills, Ralph Stanley has become one of the most recognizable names in modern bluegrass music. His gravelly, high-pitched tenor transmits a lonesome sound that is part and parcel with the music and tradition he embodies.
To me, Dr. Stanley sounded his finest when he accompanied his brother Carter Stanley. As the two began their music careers during the 1940s, their voices blended into a smooth mix of Ralph's high-line with Carter's baritone. Although their repertoire expanded to include many bluegrass hits, the Stanley Brothers wrote and sang songs that consistently centered on a single theme—home.
During the great migration of the mid-20th century, some seven million Appalachians found themselves away from home and family while searching the Midwest for jobs. In cities like Detroit, Cleveland, Pittsburgh, and Cincinnati, the newfound industrial might of the United States churned thanks to mountain-less migrants.
So when Carter wrote of "mother at home a'waitin," his lyrics resonated with these displaced people. They missed not only their families and their mountains but also their music. The meeting of the Stanley Brother's lyrics and lonesome tones with the heartache of migration created a semi-sacred reverence. For many, it was as close to the "little mountain church" as they could be at the time.
Remembered as one of the greatest bluegrass lyricists, Carter performed with such emotion that he often had tears in his eyes as he sang. One of my favorite songs written by Carter is "The Fields Have Turned Brown." While short, the lyrics convey the same melancholy found in historic ballads from the region.
https://www.youtube.com/watch?v=mevmoxEsT1g
Our narrator—a man who left his mountain home—begins the first stanza by warmly recalling the parting words of his mother and father, including a soft reminder to not forget his religious raising—as the chorus says "remember that love for God can be found."
Later, the narrator returns home, but he doesn't find God's love, just an empty house. Both his parents died while he was gone.
Although his reason for "rambling" is not disclosed, like the millions of Appalachians who left home during the great migration, regret permeates his remembrances. Even when they had good reasons—hunting for work, military service, chasing a better life—mountain people often felt sorrow over leaving.
Carter Stanley was a powerful lyricist, because he harnessed that guilt. The scene in the first stanza of mother and father waving from the porch was reenacted countless times in reality and in the memories of these migrants. Surrounded by an urban, foreign setting, the image of their mountain homes never slipped too far from their minds.
When Carter Stanley wrote of mourning the cost of his choices, he struck a chord among this unique group and, as it turned out, countless other old time and folk music fans who made the song a lasting hit. Decades later, it was still being covered by bands like The Grateful Dead and Old and in the Way.
For Appalachian ex-pats, however, it held special meaning. In their new, urban homes, many found a semblance of normalcy as the years rolled on. People from West Virginia, North Georgia, East Tennessee, and Southwest Virginia found one another and bonded around their cultural similarities. They shared food, a peculiar take on the English language, and, of course, music, forming Appalachian communities that felt a little like home. While their gentle mountains were nowhere in sight, their lives still hummed to an Appalachian tune, though one tinged with displacement and regret, one sung by Ralph and Carter Stanley.