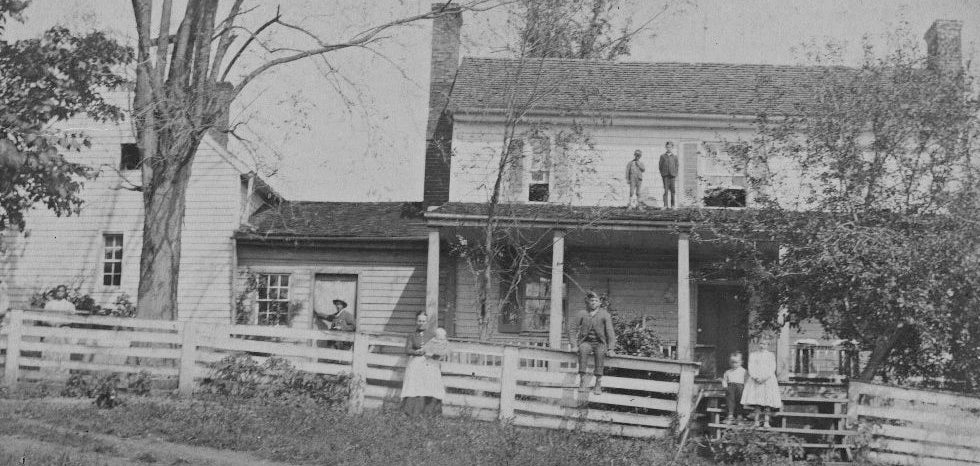 There has been no stirring in her henhouse. No rooster has sounded. Neither have her children. Polly Dearing is up before all of them. She stands outside the kitchen door in the dark, enjoying the last overnight breeze. It ruffles the hem of her gown, pushing it against her ankles, her shins, and her thighs, which are as muscular as any man's. It carries the scent of sage and tomatoes that she planted in the spring. She cannot see her garden yet--it was a moonless night and the eastern hills have not yet turned pink--but it smells distinct at this hour and complex. Morning dew has settled on the soil and released the nutty undercurrent of fresh laid manure.
This is the only still moment before Silas and the boys—Ed, Bob, Dick, and George—come downstairs, their hair twisted as rats' nests, their suspenders hanging low, the little ones moaning about chores as they stumble to the john. They will water and feed the closest animals while they're outside, and then they will come back hungry.
Polly will be in the kitchen daylong. Porridge and ham for breakfast, brook trout for dinner, and throughout, she will be sousing Silas' hog. The feet will boil in one pot, the ears and snout in another. She will submerge the head in a third, her largest kettle, which will steam like a train engine. Her dress will be soaked through by mid-day.
Knowing this, she lingers in the morning air. Her hands press flat against the cool doorframe. Her bare toes spread in the soil. A gust rolls up the hillside, lifting Polly's hair, which falls over her eyes just as the first sunbeams race across the fields. They filter through her graying strands like they're shining through corn silk.
She pushes her hair back, squints and turns. It is time to light the kitchen fire. She steps inside, silent on the floorboards, leaving footprints behind in the red Virginia clay.
***
This is how I imagine Mary "Polly" Dearing. She was my great, great, great grandmother. The house she built with Silas sits atop a foothill in the Blue Ridge. A hundred and twenty five years after her death, it is boarded. Her kitchen garden is gone. Her henhouse stands in a grove of trees and brush. The whole farm is decaying, but it is the most beautiful place I know.
[caption id="attachment_2580" align="alignleft" width="230"]
The Dearing home place, 2008[/caption]
The couple is buried by the house with a collapsed wrought iron fence around their graves. Their shared stone is on its back and defaced with a pentagram. Trailer park kids must have crossed the fields and thought they'd summons the dead.
Maybe I'm doing the same thing. I kneel there and imagine when they built the place.
It was 1850. They purchased two hundred acres and made a one-room cabin in a rush. Winter was setting in. I've heard that neighbors kept them alive that first year, feeding the family until they were stable with crops and livestock.
I know this much because great aunts and cousins spent years piecing together records about my father's side--births, deaths, marriages, literacy, property, anything that could be found in a census or county courthouse. That knowledge is quite an inheritance. I am lucky to have it, but I am greedy too. I want know more.  I want to know
them
.
Who had a temper? A stutter? An affair? Who sang? Who whittled? Who cracked jokes? Who would have gotten along with me?
I am certain that these things are knowable when I am kneeling there and looking past the buildings. I see what they saw. The fields are still fields. The path is still dirt. The mountains are still blanketed with trees. Not a single house has been built within sight to the east or the west. I expect ancient sounds to echo from the hollow, the rhythmic whoosh of scythes or children squawking because the creek water is too cold.
All I hear is wind and cattle. I eventually turn and face the years. The house has been vacant longer than I have been alive. The first room that Silas and Polly built still stands, along with a kitchen that was added around 1900. Everything else is gone or going.
Once, there was a two-story extension; it was taken down a quarter century ago. The barn roof and floor are half missing. A full size tree grows in the center of the silo. The privy is about to topple, and an outbuilding already has; it was the slave quarters.
[caption id="attachment_2568" align="alignright" width="270"]
Dearing Gravestone, Defaced[/caption]
Silas owned at least three people. After emancipation, one of them--Adaline--stayed as a domestic. She raised her five children in this single-room cabin. Now it is a pile of rotting logs.
Walking towards the rubble, I recognize that time is a hungry beast. It has consumed most of my ancestor's stories, and it is munching on the boards they laid. I may be naïve to intervene, but I pick up a brick. It is rough and pale, uneven, clearly hand hewn. I think that it was part of the two-story extension. I carry it away, back to my Jeep, and sit it on the floorboard.
It is there today, protected from the slow decay. I also have an old door lock tucked away in a drawer. I keep audio recordings of people who remember the place as a functioning farm, and I have a hard drive filled with photos of the home place. Scrap by scrap, I am slowing time's feast and getting to know my ancestors.
What I cannot learn through ruins and records, I craft in my mind. I've created a semi-fiction—likes and dislikes, personalities, bad habits—that would give any real genealogist heartburn. For me, though, it makes these people more than the sum of census data. It makes them flesh-and-blood, people who can be known. In my mind, they are now lovable and quirky. Sometime they are infuriating, but they are more than names on a tree chart. They have become real. They have become my family.
Have you imagined the lives of your ancestors? Do you have a home place that you like to visit, or are you lucky enough to live there? If so, tell us about it by leaving a comment below.