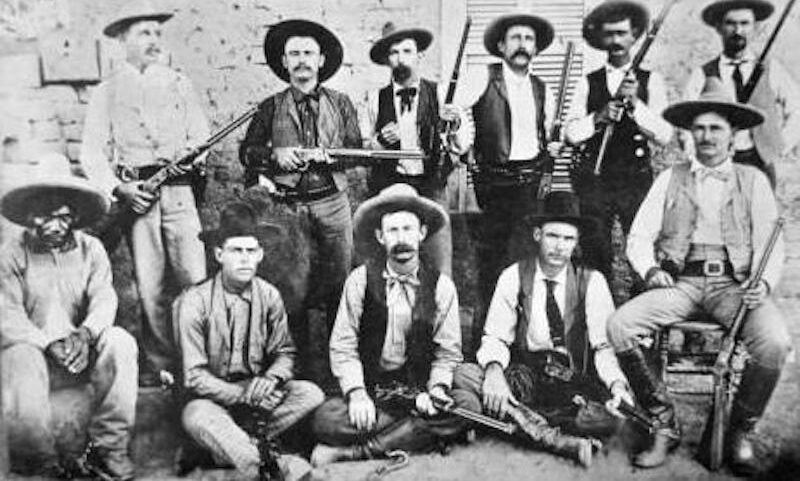 Texas Rangers, Company D, 1894
I didn't even know I had a cousin Edna until my mid-thirties. As my interest in (perhaps obsession with) our old family farm grew, my grandma said I had to meet Edna and her twin sister Elma. They were raised in Stewartsville, Virginia, near the farm my husband and I now own. 
When I first visited the twins in 2008, they regaled me with old stories for three hours — who was kind, who was difficult, who plowed their land stark nekkid in the height of summer!
These ladies remembered it all. 
Sadly, Elma has since passed, but Edna is going strong and on tech's cutting edge. At age 101, she began making TikTok-worthy videos, in which she sings tunes learned from older relatives. This one — "The Texas Rangers" — was taught to her when my great, great grandfather William Byrd Ferguson visited.
---
"That night after supper, we sat by the fireplace, and Byrd Ferguson sang this song and patted his foot to keep time." 
---
This man came of age during the Civil War and remembered hiding his daddy — a soldier who deserted his post more than once to help his destitute family. When the military came looking for Byrd's father, the family would spirit him off to the woods until the search party gave up and moved on.
To have a first-person account of Byrd's life is downright remarkable, and to have Edna alive, kicking, and recording her memories is a true gift. Please consider sharing her video because this lovely lady deserves to be internet famous!
---
YOU MIGHT ALSO LIKE
ONE SONG: THIS LITTLE LIGHT OF MINE
NPR: MOTHER MABEL CARTER'S LIFETIME OF LABOR