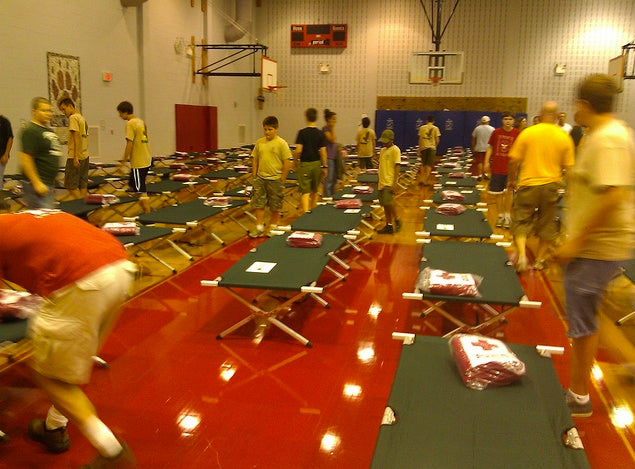 Here are cooling stations across the Appalachians. Please share this on Facebook and Twitter so folks can find a place to stay cool!
Kentucky
- Benton: Joe Creason Community Building (in H.H. Lovett Park)
- Lyon County: Eddyville United Methodist Church, New Bethel Church, courthouse (until 4 pm weekdays)
- Marion: Courthouse
- Paducah: Paducah Recreation Center (16th and Dr. Martin Luther King, Jr. Blvd.)
- Princeton: Courthouse and senior citizen building
- Trigg County: East Golden Pond Fire Department
Virginia
- Alleghany County: Mountain View Elementary School (2-6 pm)
- Altavista: 1280 Main Street
- Amherst County: Old Amhest Co. Jail (instructed to use the front door and go down the steps; located in the basement of the Sheriff's Office), Pedlar Fire & Rescue Building
- Botetourt County: Botetourt High School
- Brookneal: Brookneal Fire Department (103 Wickcliffe Ave.)
- Clifton Forge: Central Methodist Church and Oak Hill Bible Church
- Concord: Thomas Terrace Baptist Church (10660 Richmond Highway)
- Covington: Mead/WestVaco Training Center on Riverside Drive
- Christiansburg: Christiansburg Middle School
- Clover: Clover Volunteer Fire Department (North Gayle Street)
- Danville: Thomas Road Baptist Church
- Franklin County: Benjamin Franklin Middle School
- Lynchburg: Lyn-Dan Fire Station (578 Lawyer's Road), Heritage High School, Thomas Road Baptist Church
- Madison Heights: Amelon Elementary School
- Nathalie: Republican Grove Baptist Church (1075 Tobacco Road), Hunting Creek Baptist Church (4055 Hunting Creek Road)
- Pulaski: Pulaski Elementary (Rt. 11 and Morehead Ln.), Riverlawn Elementary (Rt. 114 and Viscoe Rd.), Snowville Elementary (4858 Lead Mine Rd.)
- Radford: Riverlawn Elementary School
- Roanoke: Roanoke Civic Center in the Special Events Center, Crossroads Church (near intersection of Hershberger and Williamson on Delray Street NW), Thomas Road Baptist Church
- Rockbridge County: Rockbridge Baths Fire Department, Rockbridge County High School, Walker's Creek Fire Department
- Rustburg: Rustburg Rescue Squad (238 Village Highway)
- Salem: Salem Civic Center
- South Boston: South Boston Vol. Fire Support Center (Wilborn Ave.)
- Virgilina: Grace Baptist Church (1058 Buckshoal Road)
West Virginia
- Blacksville: Clay-Battelle High School
- Charleston:  Kanawha City Recreation Center, The King Center on Donnally St., North Charleston Recreation Center, Riverside High School (overnight avbl.), Dunbar Church of the Nazarene located at 1334 Lightner Avenue,  Marmet Recreation Center, Tenth Avenue Church of God
- Kingwood: Craig Civic Center
- Lewis County: Pricetown Volunteer Fire Department
- Morgantown, the American Red Cross building on Pineview Drive
- Sissionville: Aldersgate United Methodist Church 6823 Sissionville Dr.
- Upshur County: Banks District and Ellamore VFDs