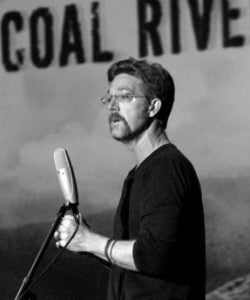 On all things coal, it's best to defer to Jeff Biggers. He is the author of "
Reckoning at Eagle Creek: The Secret Legacy of Coal in the Heartland
." He also blogs about mountaintop removal on
The Huffington Post
and
Grist
. He's addressed coal from every angle on every media outlet imaginable, but this Thursday may have brought him his biggest story yet. I'll let him explain:
[caption id="attachment_2127" align="alignright" width="175"]
Jeff Biggers[/caption]
"The EPA administrator announced a
major decision today
to clamp down on Clean Water Act violations from mountaintop removal mining...Citing new EPA studies that conclusively demonstrate that 'burial of headwater streams by valley fills causes permanent loss of ecosystems,' the EPA issued new conductivity levels 'to protect 95% of aquatic life and fresh water streams in central Appalachia.'"
This is revolutionary. When coal companies fill valleys and hollers with mining waste, they block springs. That, of course, cuts off essential sources for mountain rivers. In turn, that destroys ecosystems.
What's worse, the water that does flow is tainted. As I noted
last week
, this process has polluted some 1,500 miles of waterways, according to Federal estimates. In recent tests, water affected by mining operations were found to have ten times more saline than un-mined watersheds.
Fresh water creatures living in these streams aren't the only ones harmed by mountaintop removal. It's hard on people too. To make room for mining and its debris, entire towns have been displaced. Add that to the 1.2+ million acres of hardwood that have been destroyed and you have a region-wide disaster.
The EPA has had enough. It is now instructing field offices to restrict access to Clean Water Act permits, essentially forcing coal companies to clean up their act. According to the EPA media release, mine operators must demonstrate "that future mining will not cause significant environmental, water quality and human health impacts."
In a Q&A with reporters following the announcement, the EPA Administrator added, "...very few valley fills...are going to be able to meet standards like this."
That's good news for Appalachia and for Biggers, whose crusade against King Coal is personal. He was raised along Eagle Creek in Southern Illinois, where nearly all of the land was purchased by a mining company. Locals were moved out and according to Biggers, the company "blasted away the old homeplace."
It's not surprising that he intrinsically understands the dual impact of mountaintop removal; it destroys ecosystems and lives. Biggers called this week's EPA announcement "a beautiful and historic moment to celebrate on behalf of human rights and environmental justice in the Appalachian coalfields."
[youtube]RVHBp3TWR34[/youtube]