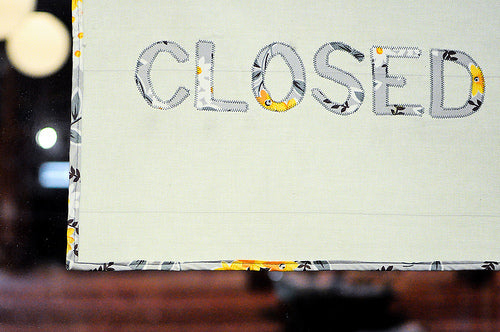 Take all of your granny's quilts, your Uncle Eb's moonshine still, every arrowhead you've ever seen, and a few race cars, and put them under one roof. Sounds like one heck of a museum, right?
Well, it was until last month. The Appalachian Cultural Museum, once a cornerstone of the Appalachian Studies program at Appalachian State University, is now officially closed.
"It told the North Carolina mountains' piece of history," said Amy Sparrow Potts, field representative for Preservation Kentucky and a graduate of the university's Appalachian Studies program, "And I can't think of another museum that does the same thing."
The museum was initially displaced in 2006, when its space was reassigned to another department, but university officials promised to re-open it elsewhere. An Associated Press article reported this week that the museum is, in fact, shuttered for good.
University Chancellor Kenneth Peacock blames the move on budget cuts. "We are experiencing totally different and very challenging times than compared to the economic climate of 2006," he said in a statement. "Few could have foreseen the nation's and the state's economic downtown [sic] and the impact on Appalachian and higher education."
I know that every institution is tightening belts and trimming fat; Appalachian State is no exception, but Peacock had options. The museum had not been operational for nearly five years, which certainly saved funds. How much would it have cost to keep the collection in storage until the economy improved? Did the school consider reducing the size of the collection, loaning pieces out or making them available online until a brick-and-mortar museum was again feasible?
The decision to disband the museum shows a startling lack of creativity, and it leaves a gaping hole in the preservation of Southern Appalachian culture. The only Appalachian museums left in North Carolina are roadside tourist attractions that sell hillbilly hayrides and moccasins made in China.
Throughout the rest of the region, I've found only three true museums committed to Southern Appalachian culture--Ferrum College's Blue Ridge Institute and Museum; the Museum of the Middle Appalachians in Saltville, Virginia; and the Museum of Appalachia outside Knoxville.
[caption id="" align="alignright" width="245"]
Appalachian State University[/caption]
Each is hard-working but small. None can stand alone as a hub for the Appalachian South--a region that is as large as Greece and, in spite of stereotypes, serves as a global force. Our music has been exported and imitated everywhere. Literature from and about the region is read worldwide. We've produced two U.S. presidents, and we provide fuel for one in five U.S. households.
Because these contributions and our heritage are often overshadowed by hackneyed images, it is a blow to lose even one institution that expands people's thinking about Appalachia.
No one should know this better than the folks at Appalachian State, which is why it feels like they've added insult to injury by putting a positive spin on the museum's closure. In a story in
Appalachian State University News
, Dr. Anthony Calamai, Dean of Arts and Sciences, said, "There are positive and important opportunities to be gained through the changes." He cited the use of some of the objects as teaching tools and added, "Partnering with other regional museums will ensure artifacts will be available to an even wider and more diverse audience."
If you want to expand a museum's reach, you create a traveling exhibit; you don't shut it down. Make no mistake about it, this move will not deepen understanding of Appalachian culture. I also doubt that it will do much to shrink the North Carolina university system's budget shortfall, which was $170 million last year.
I only see one upside--the university is freeing up some extra space; so if you need storage in North Carolina, why don't you ring Chancellor Peacock. It sure seems like he could use the cash.