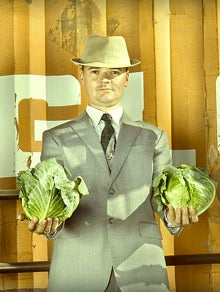 We have the Celts to thank for our corn whiskey, fiery gospel, old time music, and peculiar grammar. While they weren't the only Europeans to migrate to the Appalachian South, they seem to have left the biggest mark. I suppose it's no wonder. Most of them were Scots-Irish, a notoriously stubborn people, deep in their faith and quick to fight. Before they succumbed to someone else's ways, they were sure as hell going to assert their own.
Visits Asheville February 4-6, and you can get to know your spirited celtic roots. Grove Park Inn is once again hosting a Celtic Adventure Weekend. There will be all sorts of celtic activities, including Irish dance demonstrations and workshops, scavenger hunts, and sheepdog trials demonstrations. The musical line-up, however, is the real highlight:
[caption id="attachment_2811" align="alignright" width="220"]
Gaelic Storm frontman, Patrick Murphy[/caption]
The Hunt Family
World Ranked Irish Step Dancers and Fiery Fiddlers
Friday Night, February 4
Grand Ballroom at 8 p.m.
Doors Open 7:15 p.m.
Price: $20
Colin Grant-Adams
Scottish Guitarist and Balladeer
Saturday Afternoon, February 5
Grand Ballroom at 2 p.m.
Doors Open 1:45 p.m.
Price: $15
Gaelic Storm
One of the Hottest Celtic Bands in the Country
Saturday Night, February 5
Grand Ballroom at 8 p.m.
Doors Open 7:15 p.m.
Price:$35
You can buy tickets for each event or go in for the
full weekend package
, which includes lodging and access to "meet the artist" receptions following the Friday and Saturday night performances.
If you've seen any of these musicians before or go next weekend, add a comment here. Let us know what you think!