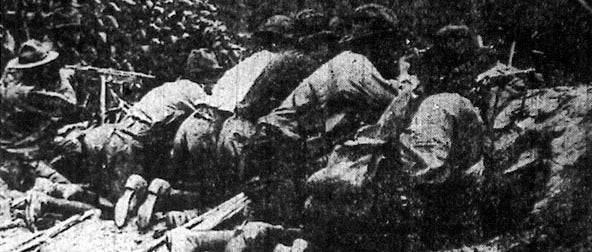 County deputies fire on miners from a Blair Mountain bluff in 1921.
You may remember that big coal is trying to blow apart Blair Mountain. This is the site of the largest armed insurrection in the United States since the Civil War. From the mountain's cliffs, as many as 15,000 coal miners took on corrupt coal operators; their hired militia; and, in the end, the United States Army. This was back in 1921, when workers had to wage literal warfare to secure a living wage.
Ninety years later, Arch Coal and Massey Energy Company hold rights to surface mine this historic site, but they face stiff opposition. Unions and environmentalists have partnered to stop them. This June, they will join mountain lovers from all over in a massive protest.
The event starts on June 4 in Marmet, West Virginia, where supporters will begin their march toward the mountain. Over the next six days, they will cover just over fifty miles, following the same route used by outraged miners in 1921. During the evenings, they will enjoy good food and music, cultural festivities, and workshops.
One June 11, additional supporters will join them. In the nearly deserted town of Blair, West Virginia, they will stage Appalachia Rising, a rally for Blair Mountain that honors our proud labor history and the irreplaceable landscape that defines us as Appalachians.
The event will feature a performance by Emmylou Harris followed by a hike--two and a half miles up to the summit of Blair Mountain. At the top, Robert Kennedy, Jr. will lead a rousing culmination to the event, calling for all of us to stand up for Blair Mountain.
This is one not to miss. You can register for the rally alone or, if you have the time and a good pair of walking shoes, for the six day march as well. If you go, be sure to share your feedback and photos here!