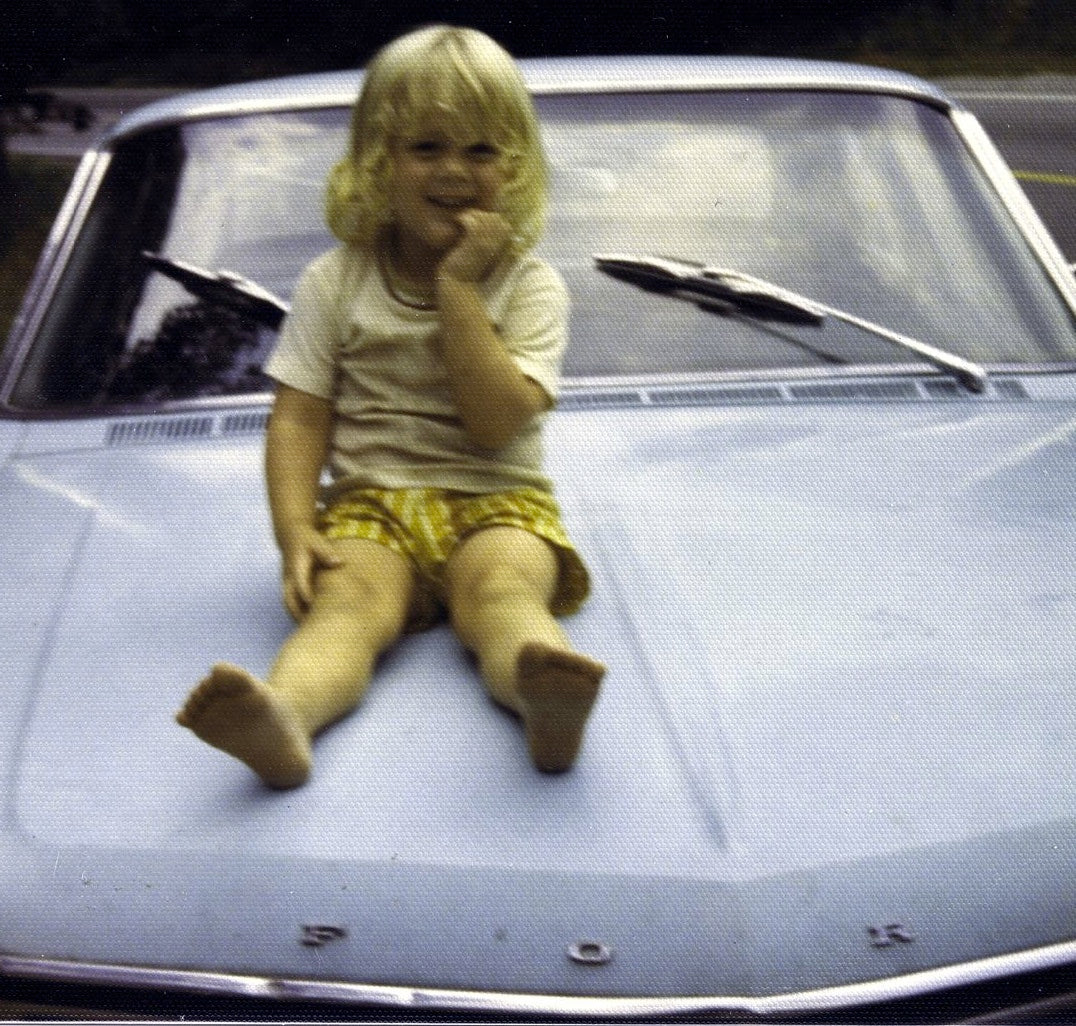 [caption id="attachment_1301" align="alignleft" width="187"]
Me, when I had a strong accent.[/caption]
Once I had a mountain twang. It was thick as bacon fat and stronger than the scent off a rose bush in full bloom. When I was three and living on Bent Mountain, my daddy recorded me. On that tape, you can hear me sassing at bedtime, "Maw'ma, ayan't slea'pee. Ayan't red'ee for bed, Maw'ma."
I didn't know that I spoke with a dialect. Everyone around me talked the same way--choppy and fast without stopping between words. Our sentences were punctuated by hums that could mean approval, agreement, doubt, or just plain annoyance, all depending on the tone. Sayings added flourish to our speech and framed our world with metaphor:
Lord willin and the creek don't rise.
Can't get ahead for tryin'.
Can't afford a pot to piss in.
Hintin' is in West Virginia.
Knock you into the middle of next week.
It was a gorgeous, elaborate accent, and it began to erode when I signed up for high school theater. I had to neutralize my speech on stage. For a while, the twang came back after the curtain closed, but eventually, over-enunciation took a toll. My accent softened for entire school days and even at home, where everyone thought I talked kind of funny.
Then I moved outside Appalachia. I went to college in the Piedmont of North Carolina. Natives talk slower there; the spoken word is more languid, but I didn't adopt this variation of Southern speech.
Instead I was influenced by politically progressive Yankees. They were the kind who drove clunker Saabs and spent their free time debating the merits of Ayn Rand novels. Few of them had any distinguishable accent beyond the flat intonation of America's hyper-educated class.
This dull tone wore down whatever was left of my twang. It also changed what I heard back home. On the phone and during visits, the local dialect popped. Someone would say, "Hey, swee'dee," or call me "Maur'kle'en," and I'd smile. It was like being greeted with fireworks every time I talked to my family and mountain friends.
I've heard that many Appalachians ditch their accents because of work. Some years back,
National Geographic
explained it this way:
"It's a common precaution among many young adults from the United States' southern Appalachian Mountains to disguise their unique way of speaking when they seek work elsewhere. They fear their distinct twang, nonstandard grammar, and obscure idioms will cause potential employers to conclude they are incapable of holding jobs."
This never occurred to me. My accent was virtually gone by the time I began working white collar jobs. I doubt it hindered my career; maybe it was because I was passing. Like people of color who used to pass for white, I blended into the dominate culture. I never denied my Appalachian roots, but for years I didn't focus on them.
I lived in Boston during my twenties and emulated New England norms. I listened to rock and jazz, not bluegrass. I vacationed at the beach or abroad, not in the mountains. I wore button downs, khakis, and rolled neck sweaters.
Once, a friend told some colleagues that I was from the Virginia mountains. Their eyes got big, and one said, "No way. I'd always assumed he was a Kennedy or something."
Of course, in Boston the local dialect was in direct contradiction to my native one. Bostonians talk as if the letter "r" had never been invented. "Pahk the cah in Hahvahd yahd," is the stock joke about their accent. Meanwhile, mountain people can drag an "r" out so far you'd think it was the whole of the alphabet. "Ids nad'farrr if yeur drivin' yeur'carrr."
It's no surprise that my accent remained dormant until I headed south. Seven years ago I moved to DC. A job was waiting and there was the promise of better weather, but mostly I was ready to be close to the Blue Ridge. On weekends, I drove to the mountains to hike, kayak, hang with locals, and for the first time in a decade, talk the way I was meant to talk.
As unconsciously as it had drifted away, my accent returned. "Ain't" and "ya'll" and "s'ko" eased out of my mouth. They sounded softer than when I was a kid, but they were back, still seasoned with a distinctive drawl. Their cadence felt natural, as if it had been inside me the whole time, waiting on the sweet smell of mountain laurel to draw it out.
Now my accent comes and goes, depending on my mood, who's talking to me, how much I've had to drink, and, especially, where I am. It's like a radio station during a car trip. In general, it's clearer in the mountains, and it fades in town.
Driving West from DC, I pick up the signal somewhere around the intersection of Highways 66 and 81. My vowels get longer. Single consonant words begin breaking into two. Everything starts looking "purdy as a pikcher" once I cross into the Shenandoah Valley. If you're in the car with me, you might even hear a gentle, twanging hum of approval.
Apparently, I'm not the only one who's proud of his mountain drawl. In that National Geographic article, Walt Wolfram, a linguistics professor at the North Carolina State University says, "What we're finding is that people are taking a new pride in their mountain culture. That includes their language. People are making the comment, 'We're hillbillies, but we're proud of it. That's who we are.'"
There's even a new Facebook page called
Appalachian English
. It's trying to "develop a standard of wraatin da better refleck ar speech." Under the Discussions tab, it even has guidelines for spelling in our dialect.
So if you're from Appalachia, are you proud of your accent? Still got it? Ever felt pressured to lose it?
If you're not, what do you think when you hear Appalachian accents? What do they bring to mind?