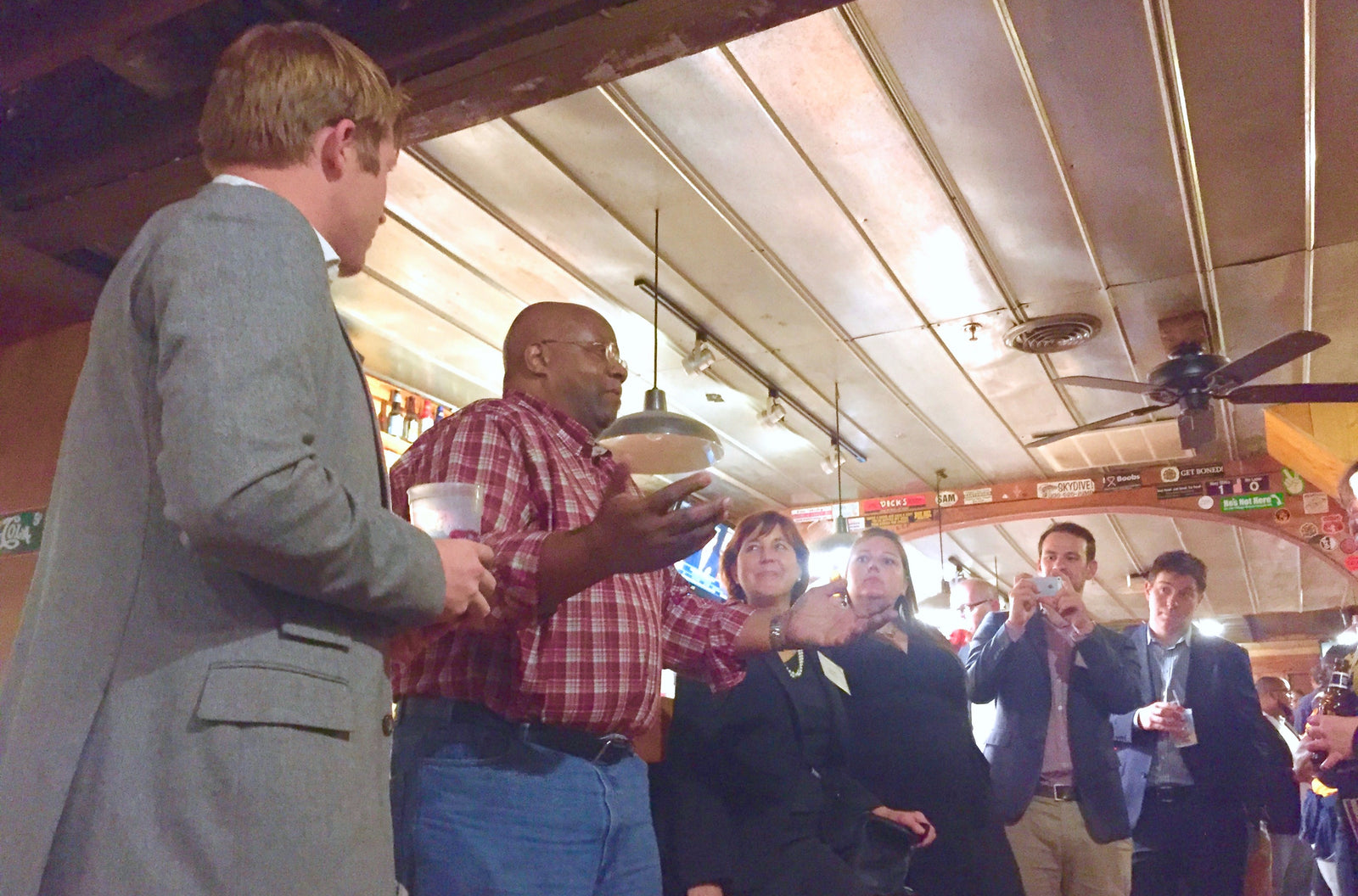 Joe James, who is using sorghum to clean coal toxins from West Virginia soil, speaks during the Rural Entrepreneurship Summit.
The thing that struck me about the Rural Entrepreneurship Summit was the granola. I mean, it wasn't the only thing—there were also amazing small business people in the room along with heavy hitters like Aaron Sporck from U.S. Senator Shelly Moore Capito's office and Ray Daffner, Entrepreneurial Development Manager at the Appalachian Regional Commission —but this was some seriously good granola. It was sweet without being syrupy, and it had a smoky undertone that surprised me.
By sheer luck, I was seated next to the fella who made it. His name is Jacob Gahn. Tall and bespeckled with a wide smile and a ponytail, Jacob is the kind of guy you picture whipping up batches of granola in his kitchen, and that's actually how he and his wife Carolyn started their company Sweetgrass.
"Sweetgrass has been with us for longer than we've been a family," he said, "From the time we were just young pups, living out in a little cabin and making granola by the tray full."
Distinctly Appalachian granola
From these humble roots, the couple added employees and new products. They also added one of Appalachia's favorite ingredients, sorghum. That twist gave their granola its signature flavor and helped capture the attention of major retailers. Today, Sweetgrass products can be found in Kroger and Whole Foods supermarkets with the phrase "lightly sweetened with locally grown sorghum" right on the bag.
Oddly, sorghum came up more than once during the Blacksburg, Virginia event, which was hosted by Village Capital, a firm that drives entrepreneurship outside California, Massachusetts, and New York. That's where some 78 percent of venture funds currently go. None of these states face problems like West Virginia, where a lot of land has been contaminated by coal, but biomass specialist Joe James has found a natural, sustainable way to clean it—by growing sorghum. In this case, it's a non-edible variety, one that actually pulls problem substances from the soil. When planted over old surface mines, mine tailings, water collection sites, and coal fine ponds, the plant jumpstarts the restoration process, capturing all kinds of nasty substances. While you wouldn't want to eat this sorghum, it can be made into products, ranging from plastic fillers to a renewable form of bio-coal, which Joe's company, ATP-WV, plans to sell to industry customers.
Sorghum-based plastic, a product of ATP-WV.
Speaking of coal, it's no secret that the traditional kind, the fossil fuel, is losing its market fast, which leaves many miners out of work. As of March 2016, the U.S. had just 56,700 remaining coal jobs, down from a high of 178,300 in April 1985. Amid these depressing figures, Rusty Justice saw an opportunity. He's the fourth generation in his family to live in Pikeville, Kentucky, the heart of coal country, and he knows that, contrary to every stereotype, former miners have what it takes to become computer programmers. Rusty set about proving it when he co-founded BitSource, a software development firm that hails from his hometown holler. Entering its second year, Bitsource has trained ten mountain people, including many former miners, to program websites. While the small business' leaders acknowledge that this is just the start, it's been enough for Forbes magazine to name Bitsource as one of seven world-changing companies and for Justice and crew to land their first Fortune 500 client.
Each of these start-ups has an element that's unique to Appalachia. Each either pulls from the area's traditions or addresses area problems. This distinction doesn't escape Village Capital CEO Ross Baird. He sees a lot of people outside Appalachia wringing their hands over the region. "But few ever go there to understand how people live every day, what challenges they're facing, and what resources they have."
That's what it will to take to spread the wealth and discover true innovation, he said, looking outside venture capital's big three states. All across the country, entrepreneurs are solving real problems right in their communities. It's just a matter of finding them, according to Baird, and then "working side by side to improve their businesses."