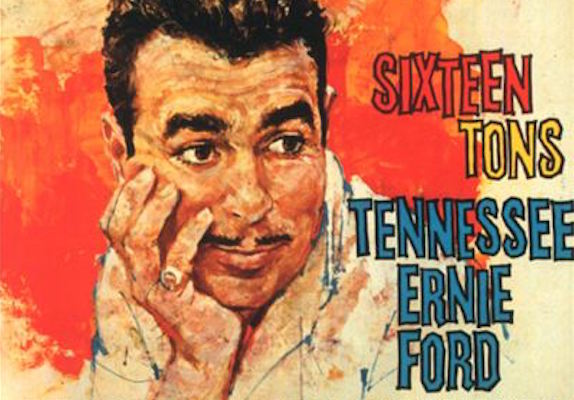 By the time Tennessee Ernie Ford released the tune "16 Tons" in 1955, he was already successful. He'd recorded a few hits, hosted an NBC quiz series, appeared in a reoccurring role on
I Love Lucy
, and made the rounds on country variety TV shows. A twang-laced crooner with a silky baritone, Ernie was arguably Hollywood's most popular hillbilly.
Still, he did something new with this song. He took a sleeper—a folk tune written and released years earlier—and gave it the Tennessee Ernie treatment. Backing "16 Tons" with a full orchestra and singing it in a style that sounded more like Dean Martin than Hank Williams, he created one of the nation's first crossover successes.
Ernie's rendition of "16 Tons" spent ten weeks in the number one spot on country charts
and
 topped pop charts for eight weeks. Mind you, this was years before Patsy Cline and Dolly Parton would obliterate the line between country and pop, and crossover king Elvis Presley hadn't even had a hit yet.
This recording broke new ground and turbo-charged life for the Bristol, Tennessee native, helping Ernie secure his own primetime television show and paving the way for a bevy of awards, including a Grammy, The Presidential Medal of Freedom, and induction into the Country Music Hall of Fame.
https://www.youtube.com/watch?v=MTCen9-RELM
Inspired by Ernie's success, the Birthplace of Country Music Museum is hosting the
"16 Tons" Music Contest
 with performers submitting their own covers of this ode to Appalachian coal miners. They're invited to either faithfully recreate the song or dramatically reimagine it.
"What would '16 Tons' be like as a flamenco tune?" asks Charlene Tipton Baker, the museum's publicist. "A free jazz chart? A bubblegum pop song?"
Creativity is not just encouraged; it could be the winning factor. Judging will be based on musical originality in addition to the quality of performances, and while prizes don't literally weigh 16 tons, they are pretty amazing:
The musician who takes the top spot will be invited to perform "16 Tons" during the exhibit's closing concert on February 13, 2016 at Bristol's Paramount Center for the Arts.
First-, second-, and third-place winners will receive a copy of the book River of No Return: Tennessee Ernie Ford and the Woman He Loved along with a museum mug.
First- and second- place winners also land either five free passes to the Birthplace of Country Music Museum or a one-year individual membership.
All entries are due by December 4, 2015. If you submit, please also share your link in a comment below, and even if you don't record the song yourself, in what style would you like to see someone perform "16 Tons"?