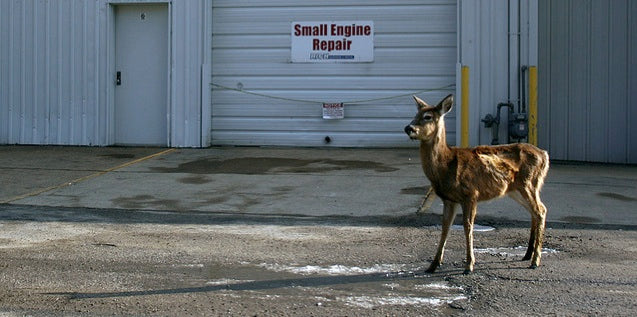 Just two blocks from the front door of my row house in Washington, DC, I can find wild morels, scampering foxes, woodpeckers, and silvery alewives, all set in 1,700 acres of forestland. I picked my condo partially because it is so close to Rock Creek Park. Within about five minutes, I can leave the city's blare--honking horns, construction, irate people yelling, blasting music--and stand atop a ridge where all I hear is the rustle of leaves and creaking old trees.
Up there, it's common for the nearest creature to have four long legs and a tuft of white on its tail. I run across deer in the park all the time. They nibble and stroll, ignoring me entirely. These deer are accustomed to people. They live in the middle of the nation's seventh largest metro area, and they seem content enough. I think so, at least, until I see a clip like this one.
[youtube]BYZxCcHfrwg&feature=related[/youtube]
This poor buck was struck by a car in Rock Creek Park. Unfortunately, it didn't finish him off. I imagine that he lasted for hours or days, limping through the woods before succumbing to his wounds.
Put deer and people in the same environment, and accidents will happen. There's no avoiding them, but we can minimize the number of long-suffering deaths like this one (not to mention the harm and expense that comes to drivers). Municipalities just need to take smart steps to keep their deer in check.
DC isn't doing much along those lines, but the fine state of West Virginia sure is. Multiple cities and towns in the Mountain State allow deer hunting during short windows. In fact, this weekend kicks off Morgantown's first urban deer hunt. On select parcels of land, including West Virginia University's organic farm, dairy farm and arboretum, bow hunters can help cull the town's deer population.
This is a humane way to manage deer, and in Morgantown, it also helps hungry families. 
The Charleston Gazette
reports that hunters can donate the resulting venison to the needy. Backwoods Taxidermy will butcher the deer for free and wrap the meat for area soup kitchens and shelters.
As municipalities consider hunts, I imagine that this charitable twist is a great way to gain local support. It makes deer hunting palatable for even the most ardent Bambi lovers.

Do cities or towns near you allow deer hunting? Do you think it's a smart way to control exploding populations, too risky for urban areas, or just another excuse for killing innocent animals?
Leave a comment below with your thoughts.