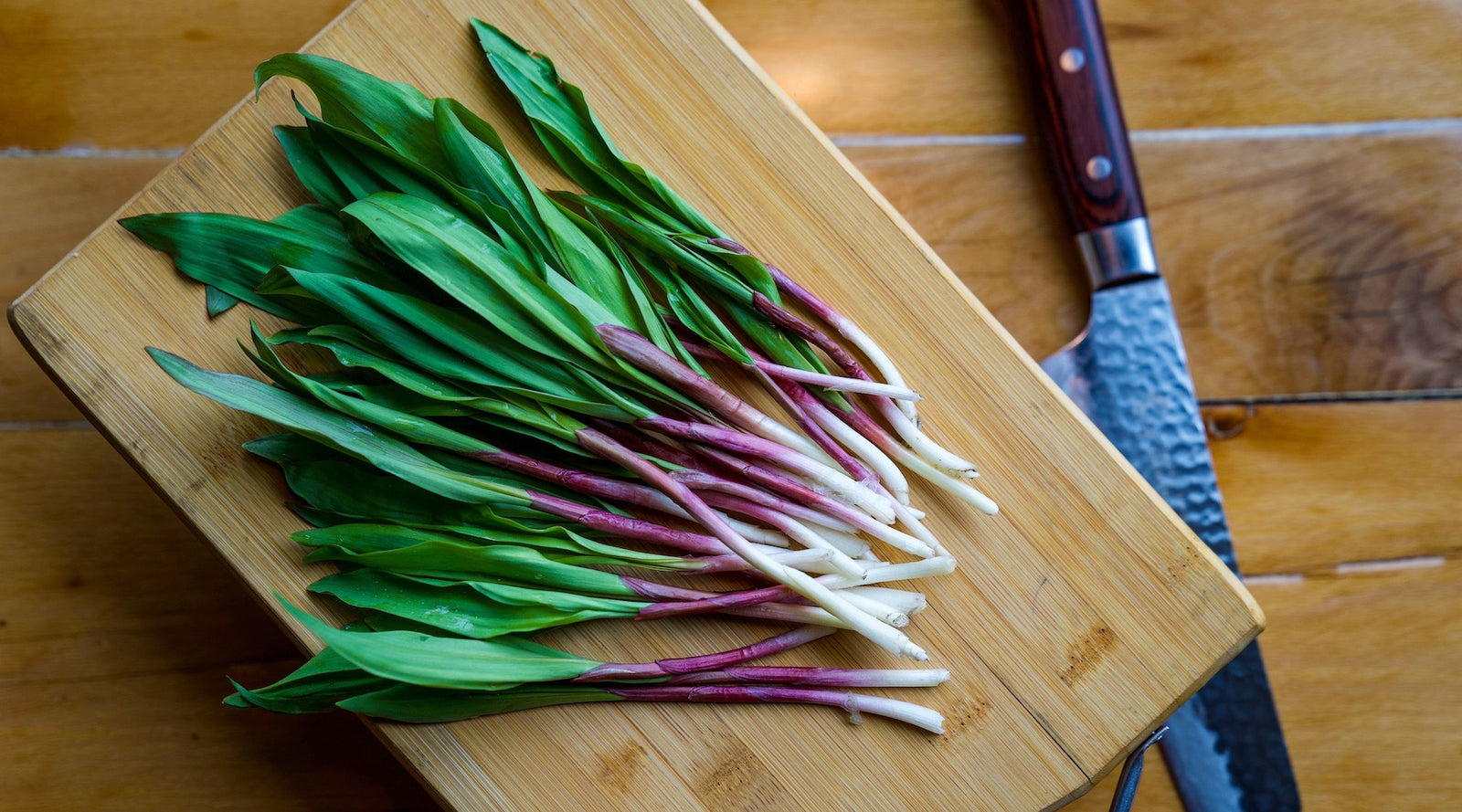 WILD RAMPS. PHOTO BY KRISS LARSON.
"First, step back about three feet. I can tell you've been munching those ramps. Second, isn't cheese really hard to make?"
It's late spring. By now, I trust you've tiptoed into the woods, maybe under cover of darkness; pinched your nose with one hand; and fast as a rabbit, harvested your secret ramp stash using the other.

Your kitchen—make that your whole house—probably smells like you've rubbed the walls with garlic and onions. Neighbors have stopped visiting, haven't they? Has your dog run off yet? Did the rest of the family decide to take a trip without you?

Don't worry. They'll come back, and in the meantime, you've got ramps to eat. Ramps with eggs. Ramps with home fries. Ramps aioli. Grilled ramps. Pickled ramps. I'm sure you've worked your way through the list and by now, you're looking for something new.

Chef Travis Milton has you covered. This Appalachian native grew up roaming the hillsides of Southwest Virginia and pestering chefs in his family's Russell County restaurant. Today, he marries his love of mountains with his love of food at Hickory, an upscale yet down-home restaurant in Bristol, Virginia.
Since March 2022, Travis has helmed the Appalachian-inspired Hickory. The restaurant's website explains that he draws from his Southwest Virginia roots but approaches traditional foods "in a fresh way that he hopes will build upon the cuisine's heritage."
This unique eatery is part of the sprawling Nicewonder Farm & Vineyard, which also offers lodging and award-winning wine.
When Travis told me about farmer's cheese with ramps and herbs, I said, "First, step back about three feet. I can tell you've been munching those ramps. Second, isn't cheese really hard to make?"

"Nope," he said, "That's a myth."

And he's right. Cheese can be easier than I ever thought and tastier than I imagined when it's loaded with our favorite stinky leek.
FARMER'S CHEESE WITH RAMPS AND HERBS
Ingredients

1 qt. half and half
1 cup buttermilk
1 tsp. lemon juice
½ tbsp. butter
5 tbsp. ramps (chopped)
1 tsp. fresh thyme (chopped)
2 tsp. flat leaf parsley (chopped)
½ tsp. chopped tarragon
½ tsp. sumac (optional)
1 tbsp. heavy cream
Salt and black pepper to taste
1. Combine half and half, buttermilk, and lemon juice in medium saucepot and bring to a soft rolling boil. (Be careful to not let it boil over.) Reduce heat and simmer for six to eight minutes. You will be able to see the liquid begin to separate into curds and whey very soon after it starts to boil.

2. Pour the mixture through a mesh strainer lined with cheesecloth or muslin.

3. Once you have caught the curd in the cloth, cinch the cloth around the curd by bringing all the edges together. Lift then twist. This will put pressure on the curd and force some of the remaining whey out.

4. Transfer your curd to a small mixing bowl and let cool.

5. Heat a small sauté pan on medium/high heat. Once your butter has melted add you chopped ramps. Sweat the ramps for 3-4 minutes or until the white parts begin to get a little translucent. Set aside to cool.

6. Add herbs, sumac, heavy cream, and cooled ramps to the curd. Salt and pepper the mixture to taste, and mix well, making sure to combine all ingredients thoroughly.
This story was updated on May 10, 2023.
FARMER'S CHEESE WITH RAMPS AND HERBS. PHOTO BY TRAVIS MILTON.
Mark Lynn Ferguson founded Woodshed. His work has appeared in The Washington Post, Chicago Tribune, Virginia Living, and many Appalachian publications. He lives in Roanoke, Virginia, where he loves cooking a mess of fried taters, picking pawpaws, and exploring the old family farm he and his husband bought in 2021.