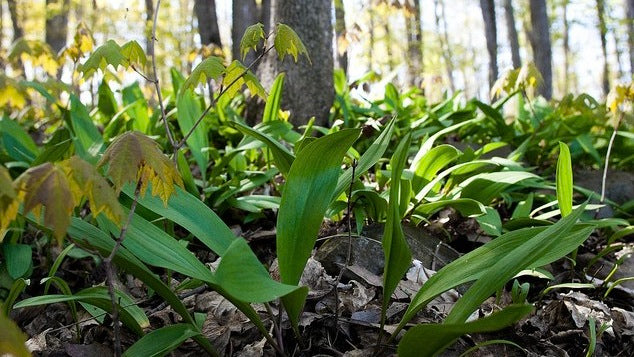 Sniff. Smell that?
It's like garlic and super-charged onions. It makes your mouth water and your nose run all at once. You're on a springtime hike, and suddenly everything stinks. It's a crazy smell, both awful
and
awfully wonderful at the same time. You can't resist inhaling a big noseful. It's like markers or gasoline fumes; you know you shouldn't enjoy the odor but there you are, sniffing again. It's irresistible.
You look around, trying to figure out what is putting off this beguiling scent. That's when you spot stiff green sprouts sticking from the forest floor.
Ah-hah! You've got it. You've stumbled upon wild ramps.
Now you have to decide--do you run like you're being chased by dogs or load up your backpack like you've found gold?
[caption id="attachment_5451" align="alignright" width="241"]
Photo Provided by Darya Pino.[/caption]
(Hint: Backpack. Go with the backpack!)
These odiferous sprigs have been a culinary delight since native Americans ruled the region. Today, they are sought after by chefs nationwide.
Find them in the wild, and they don't cost a penny but sure taste like a million bucks. A kind of leek, they're a distinctive replacement for onions or their cousin the store-bought leek. You can fry them with potatoes, scramble them with eggs, add them to a casserole, or pickle them and enjoy them year round.

There are a million ways to cook ramps but just two ways to procure them. You either collect them in the woods or get them from a farmer's market or specialty shop. Here are tips for doing both, along with a round up of the best ramp recipes and festivals I've been able to find.
What did I miss? How do you like your ramps? Post a comment below and share your thoughts on these pungent little plants.

HOW TO FORAGE RAMPS
[youtube]WlyqCMCOWJI&feature[/youtube]
WHERE TO BUY RAMPS
Ramp Farm Specialties
: This West Virginia company is the only ramp farm in the world.
Earthy Delights
: This Michigan company claims to be "where great chefs buy" foraged foodstuff.
MOUTH WATERING RAMP RECIPES
Ramp and Buttermilk Biscuits
: Mmmmm fancy biscuits.
Spring Ramps and Rainbow Trout
: Love any recipe that tells me to have a mess of something.
Pickled Ramps
: With commentary from Russian/New England/North Appalachian/New York blogger, Olga Massov.
Grilled Ramp and Asparagus Quiche
: From Ms. Martha Stewart nonetheless!
APPALACHIAN RAMP FESTIVALS
Ramp Tramp Festival
, Polk County, Tennessee
: Bluegrass, crafts, and an optional tramp up the side of a mountain in search of ramps.
West Virginia Gazette
: Lists more than a dozen events across The Mountain State.
Whitetop Mountain Ramp Festival, Whitetop, Virginia
: Perhaps my favorite; this one culminates in a ramp eating contest at more than 5,000 feet.