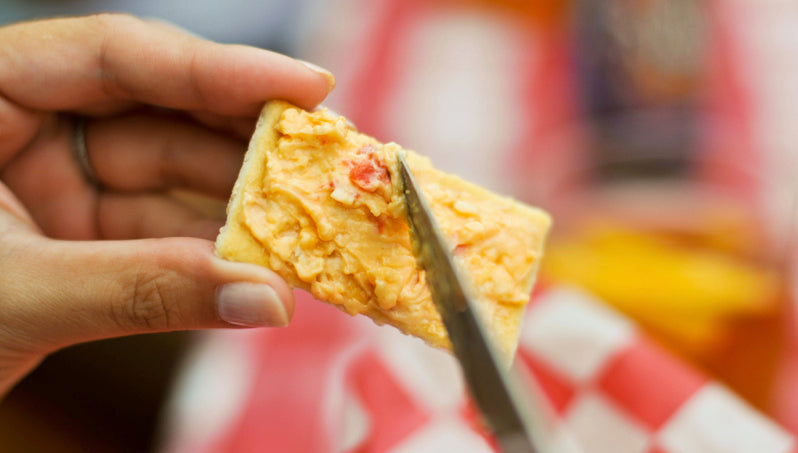 When you go to Asheville, you go to

Tupelo Honey

. You just do. It's like "when you to Orlando, you go to Disney World" or "when you go to St. Louis, you go to the arch." 
It happens, and it's good. 
In the case of Tupelo Honey, it's lip smacking, belly busting, eyes rolling back in your head good. This Southern restaurant is an Asheville mainstay for a reason. They have out of this world staples--biscuits, fried green tomatoes, and meatloaf--right alongside quirky innovations.
I mean, where else can you get an Appalachian egg roll?
Well, now you don't have to travel to North Carolina for a taste of Tupelo Honey. With their new

Pimento Cheese of the Month Club

, a little bit of the restaurant's flair comes to you. Every other month, you or your very lucky gift recipient receives a made-from-scratch tub of pimento cheese along with grass-fed charcuterie (i.e. cured meat) from Hickory Nut Gap Farm, the valley east of Asheville, and fancy artisanal crackers made by the folks at Roots and Branches, an Asheville bakery. For an extra charge of $10, they'll even add some yummy pickles. 
At $228 for the base package, this club is a bit of splurge, but you might look at it this way. Unlike a day spa or a fancy hotel, this splurge isn't a one shot deal. It turns your entire year into one big pimento party.
And if FedEx Ground is not fast e
nough for ya, you can make your own batch of 
pimento cheese right now. Here's the recipe from Tupelo Honey's cookbook.
Enjoy!
*
Warm Pimento Cheese Dip
Tupelo Honey Cafe:  Spirited Recipes 
8 ounces cheddar cheese, shredded
1/2 cup mayonnaise
1 tablespoon Dijon mustard
1 tablespoon stone-ground mustard
1 teaspoon mustard powder
1/4 teaspoon sea salt
1/4 teaspoon freshly ground black pepper
2 tablespoons minced fresh parsley
1/2 cup finely diced roasted red bell pepper
Tortilla chips for serving
Preheat oven to 350 degrees F. Combine the cheese, mayonnaise, Dijon mustard, stone-ground mustard, mustard powder, salt, pepper, parsley, and red bell pepper in a large bowl. Transfer to a baking dish and bake for 15 minutes or until heated through. Serve with tortilla chips.