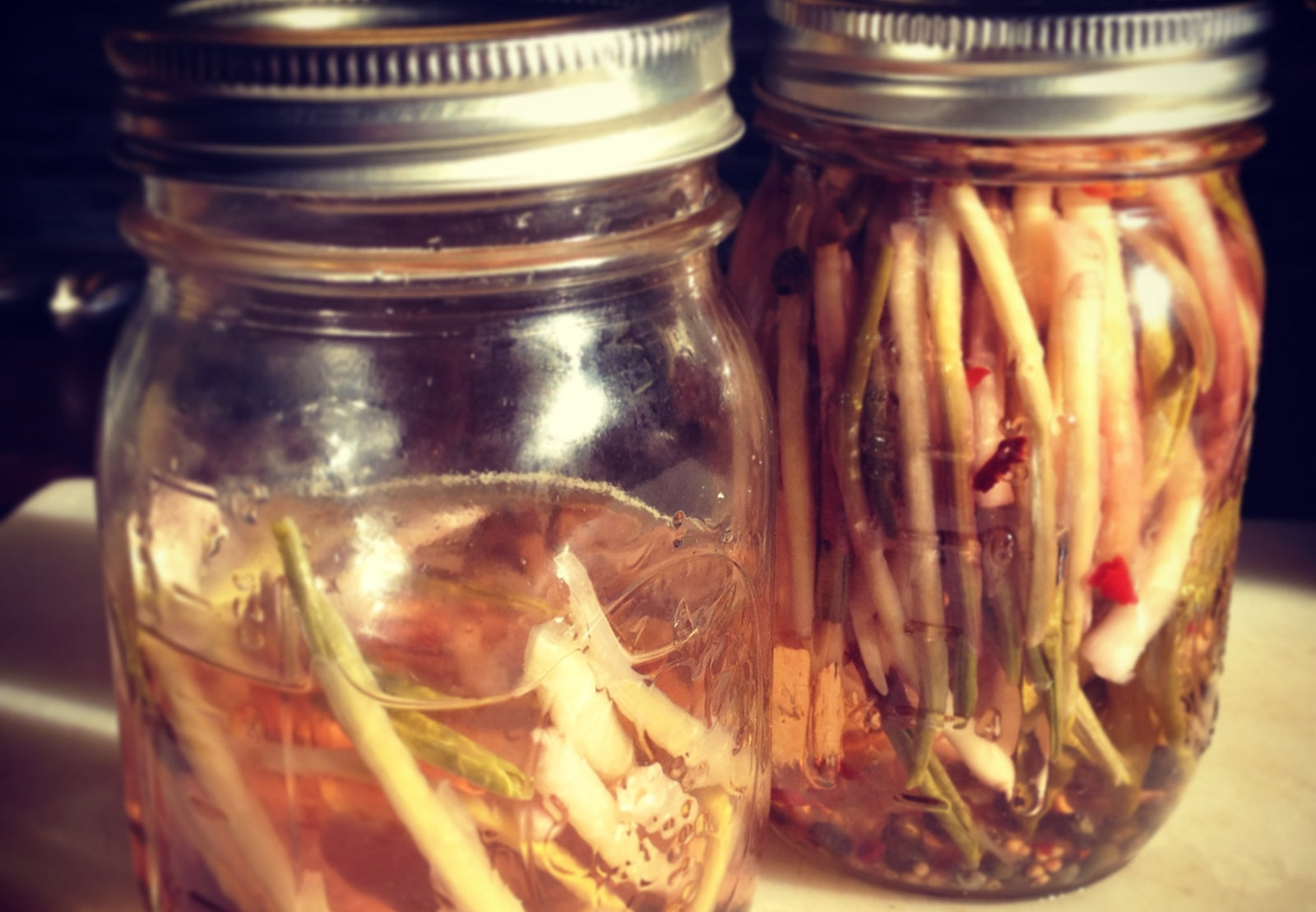 Ramps season 2013 is one for the books. Festivals have sprouted up faster than ramp shoots, ramp recipes are being traded like baseball cards, and the media must be smoking ramp leaves. The New York Times alone has published nine ramp-themed articles in the last two weeks.
While the rest of the world is catching up with our longstanding ramp obsession, Asheville food-writer and today's guest blogger Mackensy Lunsford is hunkering down. She's busy sterilizing Ball jars and pickling her favorite odiferous root.
Come the end of ramp season, Mackensy won't be suffering from withdrawal like all those newbies. She'll still be stinking up her kitchen with ramps and eggs, ramp bread, and, perhaps her favorite, ramp fried hash browns.
***
Smokehouse master Allan Benton — he of the famed bacon and country hams — is fond of saying "Tax Day is ramp day."
Ramps, the wild mascot of Appalachian spring, are coming into their pungent finest in early April. The distinctive odor of the wild allium is almost impossible to describe, but once you're familiar with it, it becomes unmistakable.
Here in Asheville, North Carolina, ramps are still abundant (but, sadly, on their way out). Fresh at farmers markets, local chefs are starting to put up the spring's harvest in Ball jars, so they'll be ready for ready for summer omelets and winter cheese plates.
Ramps can even be found at random local music festivals. At the All Go West Festival in West Asheville last weekend, a chef from a very casual restaurant topped pork belly sliders with whole ramp leaves and sold them to the crowd with almost zero fanfare.
No advertising was required — you could smell what he was up to from 20 yards away.
If you're lucky enough to get a hold of fresh ramps by the bunch, know that the leaves don't require — or deserve, for that matter — excessive tampering. Treat them as garlicky, yet tender, herbs. Separate them from the stem and sauté them simply, serving them on the side of seared trout.
Or, roast whole, fresh-dug fingerling potatoes with de-stemmed shiitakes in a skillet with a knob of butter, fresh thyme and salt in an oven preheated at about 375 degrees. Just as soon as the potatoes start to soften, add the chopped leaves and toss occasionally.
Or, simply cook chopped leaves in an omelet stuffed with goat cheese and fresh herbs. While we're on the subject of breakfast, shredded potatoes, pressed into a skillet to make a 10-inch cake of hash browns, are begging to be layered with chopped ramp leaves and seasoned with truffle salt.
All of these ideas may leave the observant home cook to wonder what to do with the leftover stems. Do what Asheville chefs do and preserve them for use throughout the year. Though the season for ramps is fleeting, pickles last much longer.
Try pickled ramps in dirty Appalachian martinis or as part of a pungent kimchi. They're also delightful on sandwiches or in springtime salads (particularly when countered with berries and fresh goat cheese).
Simple Pickled Ramps
(with a nod to David Chang)
Makes about 1 quart, and will pickle approximately 1 pound of ramp stems. Multiply according to pickling needs.
Basic brine
1 cup water
½ cup rice wine vinegar
6 tablespoons sugar
2.5 teaspoons kosher salt
Flavorings (be creative)
Peppercorns
Bay leaves
Red pepper flakes
Dill seed
Juniper berry
Sterilize Ball jar(s) according to canning instructions. Place a pinch of each flavoring into jar(s). Pack thoroughly washed ramp stems into each jar. Bring brine to a boil and pour over ramp stems. Screw top on tightly and let cool. Keep refrigerated. Of course, it is not that type of packaging that offers the best storage conditions for products (check out this piece for professional packaging options), but still it can last for some time.
Alternately, use the same recipe, but substitute radishes for up to ¾ of the ramps in each jar.