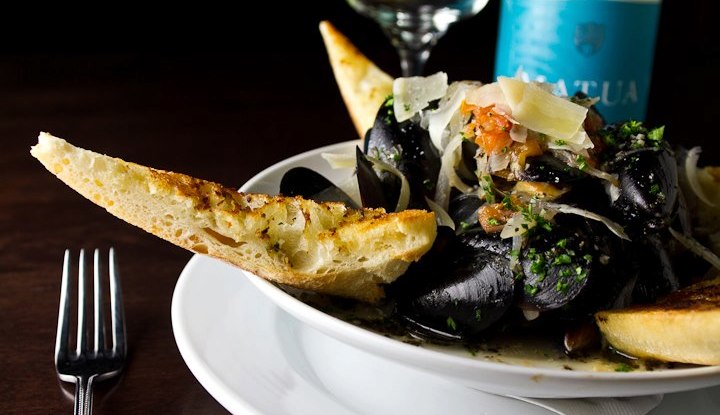 It wasn't too long ago that fine dining in Roanoke meant going to a stodgy, pseudo-French restaurant that was sandwiched between car dealerships in a strip mall on Franklin Road. Nothing against strip malls, but...oh wait...everything against strip malls. They're kinda ugly. They waste land. They trap us in our cars, forcing us to drive endlessly from mediocre restaurant to mediocre restaurant.
[caption id="attachment_9015" align="alignright" width="199"]
20 beers on tap at 1906 Ale House.[/caption]
*Deep breath. Deep looooong breath.*
This post is not about city planning. It's about the resurgence of good food in Roanoke. New, interesting,
urban
eateries have been popping up in the Star City faster than I can visit. Each trip home, I hit a couple of them by wooing relatives away from the tried and true (sorry, Denny's), and after my most recent round, I have a batch of newish favorites just in time for the new year.
Here are a few eateries that have wowed me, but it's in no way an exhaustive list. Which newcomers to Roanoke's restaurant scene have your mouth watering? And if you don't live in Roanoke, which would you like to try during a visit?
*
Lucky
, 18 Kirk Avenue: Let's start with fried chicken. In an unusual bout of good meal-ordering judgement (I routinely order the worst thing on any menu), I picked it at Lucky. Not only was the bird humanely raised, which made me feel good about eating it, it was also moist and breaded with a flavorful, crisp crust that, to borrow a term, would make you wanna smack your mamma. Many places bill themselves as gastropubs, but Lucky actually holds up on both measures—
gastro
and
pub
. The food is delicious, and the drinks have been voted the best in town. To top it all off, the interior is cozy with a huge, dark wood bar and intimate booths, each illuminated by a retro, red "Exit" sign, which makes mealtime feel intimate and just a little bit funky.
1906 Ale House
, 1910 Memorial Avenue: First, a disclaimer—try as I might, I don't like beer—but my friend Jess, who was visiting Roanoke from New York City does. Before we ordered dinner, he noticed that 21st Amendment, a San Francisco craft beer, was among the twenty on tap. Jess raised his eyebrows. "That's a
really
good beer," he said, clearly surprised to encounter this West coast brew in a Blue Ridge valley. Thankfully, beer isn't the only surprise at 1906 Ale House. Our muscles and grass-fed bison burgers were cooked to perfection, so good, that I dragged family there for a dinner redux just a few days later.
[caption id="attachment_9019" align="alignleft" width="280"]
Le Hot Club de Big Lick performs at Wasena City Tap Room and Grill.[/caption]
Local Roots,
1314 Grandin Road, Southwest: Next door to the historic Grandin Theater (where yours truly was once a projectionist), is Roanoke's most committed farm to table restaurant. Local Roots lives up to its name with many menu items telling you exactly where they originated—Hollow Hill Bison Strip, Sunburst Farm Trout, Bramble Hollow Heritage Chicken. There's no guess work here. Just good eatin that does of good job of helping local farmers.
The River and Rail
, 2201 Crystal Spring Avenue: My brother Mike and I found ourselves starved in Roanoke's Crystal Springs neighborhood a few weeks back. We stumbled into The River and Rail, drawn by the restored Lipes Pharmacy sign on the building's side. Inside, we were greeted by another historic touch—railroad themed photos, many by the famous photographer O. Winston Link—and plate after plate of good food. The deviled eggs were like Momma would have made...had Momma been a regionally renowned chef. Mike said his roast beef sandwich was just about the best he'd ever had, and he works at a Roanoke bar known for its subs and sandwiches. My burger was thick, moist, and dripping with the restaurant's signature "fancy sauce." And if burgers tickle your fancy, watch the restaurant's
Facebook page
for periodic half-priced burger nights.
[caption id="attachment_9024" align="alignright" width="291"]
Dining Room at Local Roots.[/caption]
Wasena City Tap Room and Grill
, 806 Wasena Avenue: I go to the Tap Room for its location as much as its food. Everything I've ordered there—burgers, fish tacos, salads, fries—has been tasty with generous portions, but what stands out for me is the space. Located in a former ice house with luxury apartments on the upper floors, this neighborhood bar is open, bright, and just a little gritty. Inside, red brick soars up to giant crisscrossed beams. Outside, the patio sits yards away from the Roanoke River and one of the city's best parks, which, consequently, is the perfect spot to walk off a belly full of food or those mimosas you shouldn't have had with brunch.