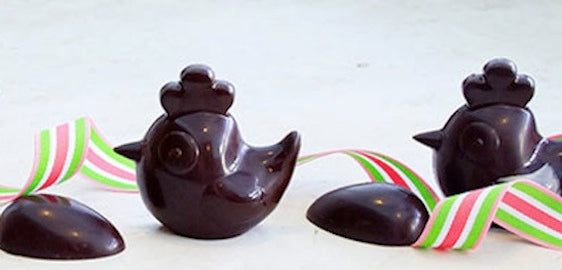 Lately, I've been making a lot of Cadbury Cream Egg runs. I'll be at the gym or out for errands, and Ryan will text -- Can you go to CVS? I know what comes next. He can buy his own deodorant and fill his own prescriptions, but for some reason, Cream Eggs taste better when I pick them up. Not that I mind. I'd never hit the candy isle for myself, but if I'm buying him treats and my arm should bump a box of Peeps that falls into my shopping basket, well, I consider that an act of God. I did, at least, until I clicked on the Website for
French Broad Chocolates
. This Asheville based confectioner makes their treats by hand, and by comparison, off-the-shelf candy looks like it came from inferno's eighth circle. Just look at the shop's candy chicks and peanut butter eggs. They're adorable, crafted right in their Asheville factory, and made from a mix of organic and imported ingredients like Peruvian dark chocolate. The best thing is that you can order them through March 26 and have them in time to for Easter morning. If you're running behind on Easter planning and find yourself with empty baskets just days before, don't despair. Local candy stores across the region are offering equally tantalizing sweets. Here are a few of my favorites. Where are yours? Where you do you go for mountain-made treats?
*
The Candy Factory
, Charleston, West Virginia: Chocolates shaped like West Virginia and made right in Kanawha City! 'Nuff said. [caption id="attachment_7991" align="alignright" width="148"]
WV candy from The Candy Factory.[/caption]
The Hot Chocolatier
, Chattanooga, Tennessee: In addition to chocolates, you can pick up pastries and deserts. Who doesn't love an Easter croissant?
The Fudge Factory
, Dahlonega, Georgia: Serving up handmade fudge and their signature "Dahlonega Nuggets" for more than thirty years.
McFarland Candies
, Frostburg, Maryland: The shop was founded in 1944 when Edgar and Jewelle McFarland began making their own Easter candies. It's been a Frostburg mainstay ever since.