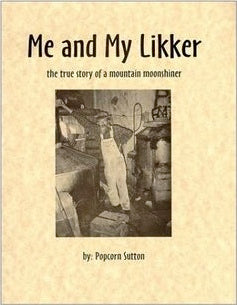 If you're from the mountains of Tennessee or North Carolina, go ahead and stop reading. You surely know all about Popcorn Sutton. He's dead now, but until last year he was a gun totin', model T driving, quick witted, self promoting one man tourist attraction on the Tennessee side of the state line. He was also a moonshiner.
Sutton was more than public about his illegal profession, which he likened to a calling. He wrote a book of his own --  the hard to find and even harder to afford
Me and My Likker
(currently priced at $428.24 on Amazon) -- and was the subject of a photo exhibit, countless articles and "The Last One," an Emmy Award winning documentary.
Some say Sutton was the last of his kind. That's debatable; I've met some pretty colorful mountaineers, but take one peak at the below clip. You'll see that Sutton was a character, and you might agree that his death, an apparent suicide sparked by a fifteen year sentence for making illegal liquor, was more than a loss to tourists and niche media. It was a loss to Appalachian culture.
If you'd like to see the full documentary "The Last One", I've read that it can be rented at 
TV Eye
in Asheville. If that's not in your neck of the woods, you can also buy it online.
[youtube]0P6oQGqknWE[/youtube]