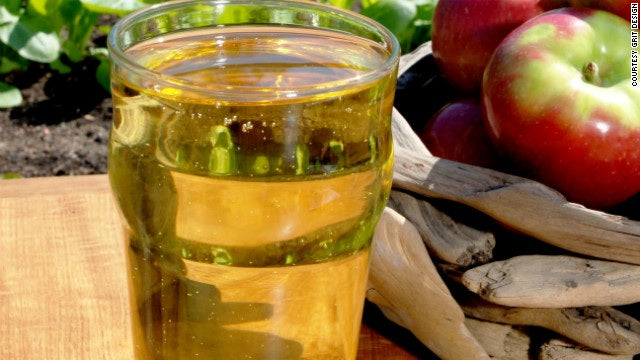 You wake up and stumble into the kitchen. What's the first thing you pour? A stiff cup of coffee? Hot water for tea? OJ? How about a tall glass of hard cider?
For more than a century, cider was the beverage of choice in North America—breakfast, lunch, and dinner—and practically everyone drank it. Farm families, children and adults alike, washed down their eggs and bread with it. John Adams is said to have guzzled a tankard each morning too. Jefferson and Washington both made their own ciders and likely consumed it much more often than wine because cider was simply everywhere.
One reason for hard cider's popularity was a byproduct of fermenting. Heat and alcohol kill bacteria, and early European immigrants felt this made cider safer to drink than water, which they'd grown to distrust since it had often been contaminated in their homelands. So they drank it en masse. In fact, famed newspaper editor Horace Greeley said that a barrel of cider barely lasted his household for a week, with family and visitors filling their mugs again and again "until everybody was about as full as he could hold."
While most of us aren't yet ordering hard cider by the barrel full, it is making a big comeback. "Cider is the fastest-growing segment in the alcohol industry right now," said Diant Flint who owns the oldest cider making operation in the South, "the category grew over 60 percent last year."
There might be a dozen reasons for this boom—cider has a romantic past, it's gluten free, it fits with our revived appreciation for artisanal products—but more than anything, cider just tastes good, and it has a great range. Some ciders are sweet as wine coolers while others are dry, drawing their flavor from apple varieties that are grown specifically for their tannins.
"If you want to make a really wonderful artisan hard cider, you need to start with excellent fruit," said Flynt, who began her Foggy Ridge orchard in Virginia's Blue Ridge Mountain back in the 1990s, and she says that many of those apples would never be eaten. "They're very bitter, and quite tart, quite acidic."
While bitter apples are bad for pies, they're great for area business. At least thirteen cider makers have popped up in the Appalachian South. They stretch from Maryland clear to Georgia, with the biggest concentration in Virginia, where cider has become so popular the beverage now has its own week.
Governor Bob McDonald declared November 15-23, 2013 as
Cider Week
. Events across the state give folks a chance to see what cider mania is all about. If you're in the area, you might swing by the festivities, and even if you are not, it's easy to pick up a pint of this appley libation. Below is a list of cideries I've spotted in the region. (Let me know if I missed anyone.) Many have their own tasting rooms, and they all sell to area bars and restaurants.
So are you a cider drinker already? If so, what's your favorite kind? If not, ready to give it a try? We all wanna know—how do you like them apples?
*
Maryland

Distillery Lane Ciderworks, 5533 Gapland Road, Jefferson, Maryland: This Maryland cidery started selling hard cider in 2010, and all the cider is produced on the farm. Distillery Lane Ciderworks offers self-guided tours, group tours and a cider-making class. The tasting room is open from 10 a.m. until 5 p.m. on Saturdays  and noon to five on Sundays from July 1 through January 1. The rest of the year, hours are Saturday 10 a.m. until 5 p.m.
Millstone Cellars, 2029 Monkton Road, Monkton, Maryland: Millstone's ciders are oak-barrel fermented and aged from heirloom cider apples. The cidery also crafts artisanal mead. The tasting room is open every Saturday from noon until 6 p.m.

Virginia
Winchester Ciderworks
,
2502 North Frederick Pike, Winchester: Stephen Schuurman and Joshua Ussel produce cider from apples predominantly grown in the Shenandoah Valley.
Old Hill Cider
, 17768 Honeyville Road, Timberville: Launched in May 2012, this is the cidermaking arm of Showalter's Orchard. The tasting room is open Monday through Saturday from 9 a.m through 5 p.m.
Potter's Craft Cider
, Free Union: Tim Edmond and Dan Potter produce farmhouse-style cider made with Virginia Winesap, Albemarle Pippin, and other local varieties. While the cidery doesn't have a tasting room, it does host tastings in area bars and restaurants.
Castle Hill Cider
, 6065 Turkey Sag Road, Keswick: With roots and ties to Thomas Jefferson, this Charlottesville cidery offers four varieties of cider. The tasting room is open from 11 a.m. to 5 p.m., Monday through Sunday.

Albemarle Ciderworks, 2545 Rural Ridge Lane, North Garden: Founded in 2000, Albemarle Ciderworks is a family orchard. Its tasting room, just south of Charlottesville, is open from 11 a.m. to 5 p.m., Wednesday through Sunday.
Bold Rock Hard Cider, 1020 Rockfish Valley Highway, Wintergreen: Produces its Bold Rock ciders in 12oz bottles and its Crimson Ridge ciders in 750ml bottles. The cidery has ambitious plans to open an 11,000 square foot cider pub this year. The tasting room is open from 11 a.m. to 6 p.m., seven days a week.
Foggy Ridge Cider, 1328 Pineview Road, Dugspur: A bit off the beaten path, Foggy Ridge is in Southwest Virginia and is open on the weekends from April through December. Situated in the middle of a handful of orchards and wineries, Foggy Ridge offers breathtaking scenery and a homemade ambiance.

North Carolina
McRitchie Winery & Ciderworks
, 315 Thurmond PO Road, Thurmond, North Carolina: Produces an award-winning Breton-style cider made with heritage mountain apples. The tasting room is open Thursday through Sunday from 12 to 5 p.m.  The final tasting of the day is at 4:45.  Winter hours may vary.
Noble Cider,
34 Redmond Drive, Fletcher: Startup cider producer using apples grown in the mountains of western North Carolina. Host local tastings.
Saint Paul Mountain Vineyards
, 588 Chestnut Gap Road, Hendersonville: Produced 1,000 gallons of cider in 2013 and has plans to produce 3,000 gallons in 2014. Boasts a 1,250-square-foot tasting room and has a picturesque patio.
Georgia
Mercier Orchards
, 8660 Blue Ridge Drive, Blue Ridge: Launched its Grumpy Granny, Old #3, and Black Bee hard ciders in 2012.
* Thanks to
The Richmond Times-Dispatch
and the 
Cider Guide to North America
 for contributing content to this post.