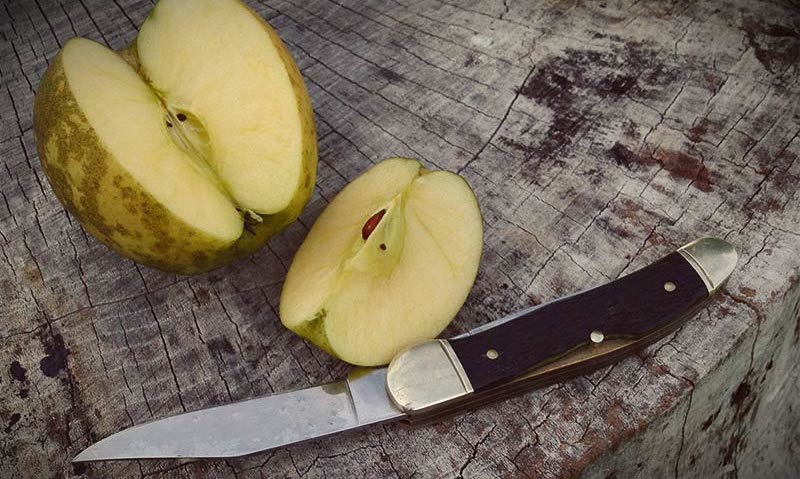 Any other yardeners out there—you know, folks who love growing food in their yards?
Haynes Mansfield sure is one. In fact, he introduced me to the term (which I may need to put on a t-shirt). Over on his blog,
Life Appalachia
, Haynes writes about everything from improvised jam made with less-than-perfect strawberries to filling his yard with mounds, an ancient planting technique.
Gardening topics come naturally for Haynes, maybe because he has ample inspiration. His quarter-acre in West Virginia's New River Gorge region is packed full of peas, cherries, beans, chard, and tomatoes, but one crop stood out for him recently. The golden delicious apple—a fruit that can be found in just about any supermarket, Hinton to Hong Kong—recently gave Haynes a history lesson, expanding his understanding of what it means to be a mountaineer.
*
For months I've been patiently watching yellowish, mottle-skinned fruits swell. Young golden delicious apples bobbing tenuously in the breeze, testing the strength of my sapling's little, bowing branches.
The tree, a couple years old now, has survived a transplant from a home I briefly owned and a near girdling winter attack of a winter-starved, bark chewing vole. But, despite youth and strain, the scrappy little tree managed to set fruit this year. No small feat, given that we were struck by a brutal frost right when fruit trees set bloom preventing most from pollinating. My older neighbor, who grew up in the coal town of Minden, West Virginia, pointed out recently that I now know the meaning of the term "nipped in the bud." Huh, sure enough…that's exactly where the turn of phrase originates.
While I knew my plucky little sapling stands testament to the spirit of the West Virginia mountaineer metaphorically, I didn't realize it's also literally mountaineer by birth.
West Virginia natives, particularly those who attended public school, know that the Golden Delicious apple hales from these hills. Not only the state's official fruit, its origins lay in pasture in Clay County, West Virginia and date back to the early 1900's.
Apparently that first Golden Delicious tree was just as persistent as my little one. Legend, as published by the West Virginia Division of Culture and History, explains that one of the Mullin's boys, J.M. Mullins, was tasked with mowing a pasture by scythe when he stumbled across a young apple tree and decided to spare it from the blade. "Now, young feller, I'll just leave you there" was the thought he later described regarding the tree. He continued the tradition in future mowings and the result was a hardy, fruit bearing apple tree.
After acquiring the Mullin's family farm, J.M's uncle, one Anderson Mullins, put some of the tree's outstanding apples in the mail. He sent them to the famous apple propagator, Mr. Stark, of Stark Brothers orchard in Missouri. So impressed by the flavor, and long-storing qualities of this new apple Mr. Stark immediately sent a representative to the farm who purchased the tree, and thirty feet of land around it, for the company. The tree, it's fruit, and propagation rights became exclusively those of Starks Brothers Nursery.
Facts get hazy, as history tends, in the area regarding compensation. Some claim that Starks purchased the rights of the apple soon to be named Golden Delicious for $5000. Others claim that only an initial payment of $25 was ever handed over to the Mullins family. Regardless, the trees that Stark propagated from this first specimen are the forefathers of
all
 Golden Delicious apples in the world, including those often purchased on supermarket shelves.
I grew up in North Carolina where we paid homage to the long leaf pine, tobacco, and cotton. I learned of my home state's fruit in my grandfather's backyard where he grew the thick-skinned, musky flavored scuppernong grape. I missed the early education and Mountain State connection to the golden delicious apple. Knowing little about apples, my decision to plant this tree was of practical, agrarian reason. The golden delicious is one of the most prolific pollinators in the apple orchard. It sets heavy fruit and helps most other apple varieties pollinate. It is cold hardy and renowned for its flavor. It's even the base of homemade mountaineer delicacies like applesauce and apple butter.
I'm also a yardener. It's a term that I jokingly use as I'm in no way a farmer. But the boundary between my garden and landscaping is heavily blurred, making it difficult to fit my practices into the boundaries of vegetable gardening. While I have homesteading dreams, my house is on a small one-quarter acre lot tucked into the town of Fayetteville, West Virginia. My homestead plans include a small orchard, but for now I've satiated my dream by mixing apple, peach, and pear trees into my corner of the New River Gorge region.
I've also become interested in growing heirloom varieties of fruits and vegetables, those which retain their ability to set true seed and typically are raised and propagated for their flavor and other culinary benefits versus those related to modern production agriculture, shipping and food storage. (Ever wonder why all those grocery store tomatoes look exactly the same? And taste exactly tasteless? It's all about harvest and transport and has almost nothing to do with flavor.)
I'm not sure where I first stumbled across the fact, but learning that the Golden Delicious was not just West Virginia hardy, but of true Mountain State lineage, I became even more excited and full of admiration for my little apple tree.
This week, autumn nights have drifted towards cool temperatures, you know, when flip flops and jeans feel right and sleeping with the windows open is a must. Monarch butterflies are flitting through on their migration south and the New River Gorge has become adorned with the fall wildflower palette of gold and violet.
It's apple season.
This week, I succumbed to my patient temptation. Gently supporting the whip like branch of my apple tree, I plucked one of the 4 apples from its perch. My favorite pin knife, with its chipped stag handle, slid its home in my jeans pocket and quartered the fruit. It's juices puddled on the blade, a testament to peak freshness.
The first bite? Delicious, and, surely worth it's weight in gold.