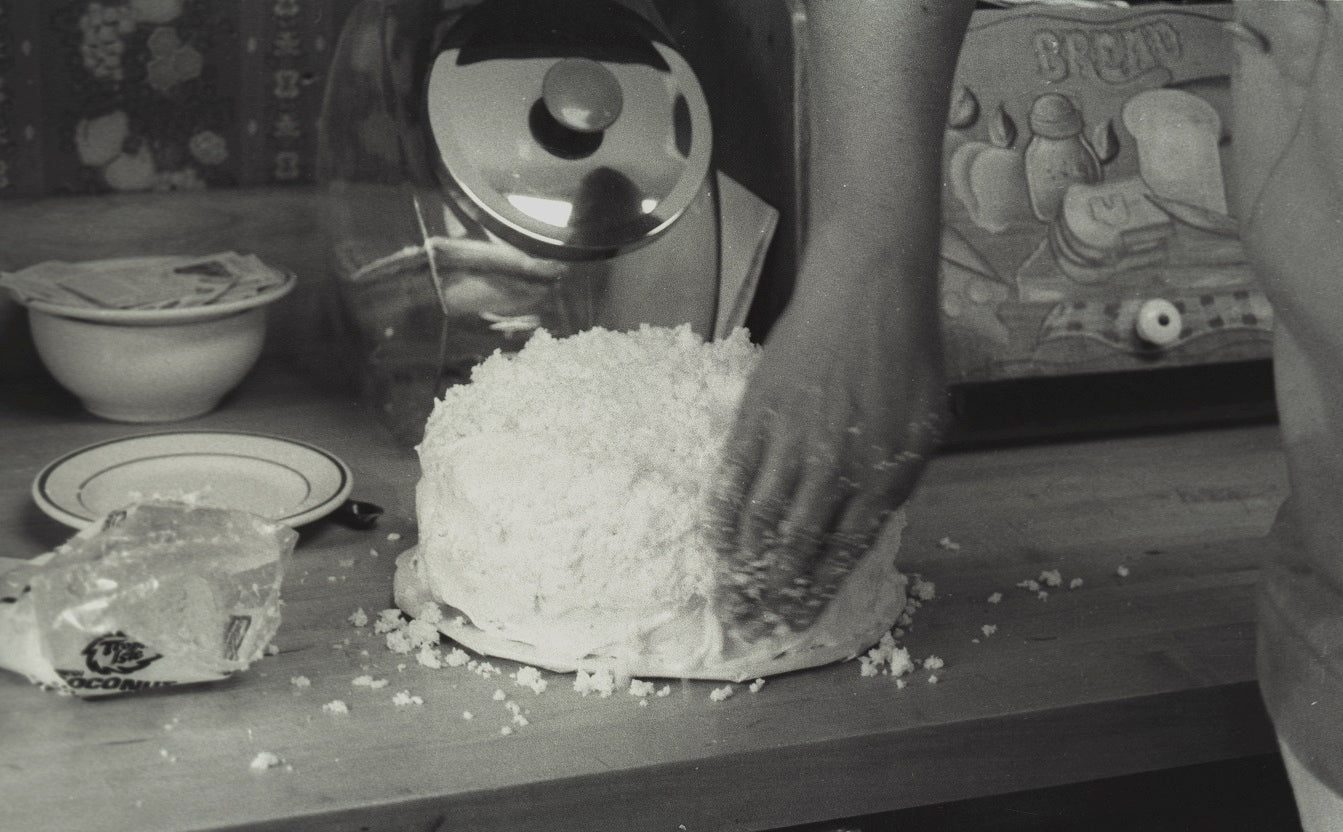 This photo ran with the recipe when it was originally published in 1984. Photo provided by Foxfire.
True confession — I am obsessed with The Great British Bake Off. Watching it, I discover amazing food like pavlova, a meringue dish named after a Russian ballerina. I find inspiration in the contestants, who exude camaraderie even as they compete, sometimes even helping one another in a pinch. And I laugh out loud at the show's comedian hosts. Seriously, I'd buy a Noel Fielding action figure if I could find one.

Turns out, I'm not the only one who loves the show. The folks at Foxfire, Appalachia's premier center for history and culture, are honoring Bake Off with a delicious series of mountain bakes. Having collected heritage recipes in the region for more than fifty years, they have no shortage of options.

After a lot of pondering, baking, and eating, they decided to start with scotch cake. This showpiece of a recipe was originally published in 1984 as part of their now classic collection The Foxfire Book of Appalachian Cookery. It's a spicy, warm cake that ends up surrounded by thick, fluffy frosting. As if that's not enough, it's then studded with pecans and coconut, making it both delicious and beautiful.

Have you ever tried or made a scotch cake? Would you? We'd love to hear your thoughts in the comments below.
Scotch Cake
Originally published and shared by Foxfire
Ingredients:
2 cups flour
2 cups sugar
1/2 cup butter
1/2 cup oil
1/4 cup cocoa
1 cup water
1/2 cup buttermilk
2 eggs
1 tsp baking soda
1 tsp cinnamon
1 tsp vanilla
Icing (recipe follows)
Combine flour and sugar. Mix butter, oil, cocoa, and water in a saucepan; bring to a rapid boil and pour into flour and sugar mixture. Mix well. Add buttermilk, eggs (one at a time), soda, cinnamon, and vanilla. Mix well. Pour batter into two greased and floured 9-inch layer pans or a greased and floured 9×13 pan. Bake at 350 degrees Fahrenheit for 30 minutes. When cool, frost.
Icing for Scotch Cake
1/2 cup butter
1/4 cup cocoa
6 Tbsp milk
1 tsp vanilla
1 box confectioners sugar
1 cup chopped pecans
1 cup flaked coconut
Cream together butter and cocoa. Add milk and vanilla. Stir in confectioners sugar and mix thoroughly. Last add pecans and coconut.