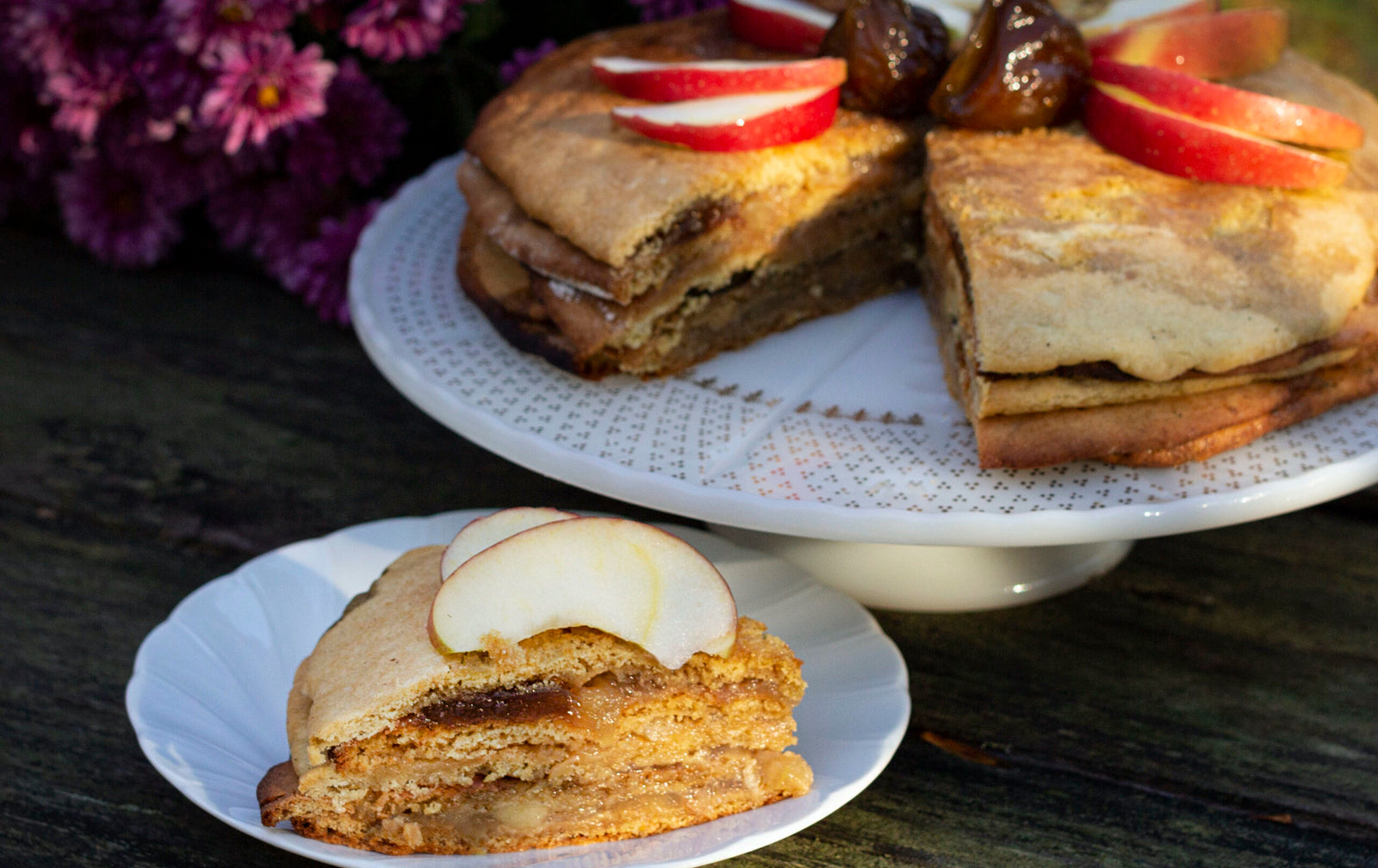 Photo provided by Foxfire.
Who doesn't love an apple stack cake?

With layers of cake and spiced apples, this hearty desert is sort of Appalachia's answer to the English trifle. And like the trifle, it can have variations. <

A delicious mini version, the fruit stack pie uses fewer layers and invites you to pick whatever filling you like best. Apple, peaches, pears, plums — they're all game in this second scrumptious recipe in Foxfire's baking series. Inspired by the hit TV show The Great British Bake Off, this Appalachian culture and history center is drawing from over fifty years worth of recipes to spotlight four delicious bakes.

Have you ever had an apple stack cake? What do you think about this adaptation?

Be sure to leave a comment below, and check out the first recipe in this series — Scotch Cake.
Fruit Stack Pie with Gingerbread Pastry
Adapted from The Foxfire Book of Appalachian Cookery
Ingredients:
2 cups flour
1 tsp ginger
1 tsp cloves
2 tsp baking soda
1/2 tsp salt
1/4 cup shortening
1/2 cup sugar*
1 egg
1/3 cup molasses or sorghum syrup
Any canned fruit in thick sweetened syrup**
*The original recipe calls for 1 full cup sugar + 1/2 cup molasses. We found this was too sweet and reduced it.
**We recommend making your own filling; any pie filling will do, so long as the juices are cooked to a thick syrup. Check out our post on half-moon pies for instructions on making apple pie filling.
Sift together dry ingredients in separate bowl. Cream together shortening and sugar until fluffy. Add egg and beat well. Mix in molasses/sorghum. Slowly mix the flour mixture into egg moisture. Divide dough into 3 or 4 balls. Lay out 3-4 squares of parchment paper. Trace a 9″ circular cake pan on each parchment sheet then flip over. Roll out dough (one on each parchment sheet) to 1/4-inch thick and bake each circle about 5-8 minutes in a 350 degrees Fahrenheit oven. (Watch these closely!) Let pastry cool completely, and then spread fruit between each layer of pastry and stack. Refrigerate overnight before serving.
For more stacking layers, double the recipe! If you find your layers are too dry, add a little buttermilk to get the consistency you want. But remember, after it sits overnight, the layers will soften from the fruit juices.