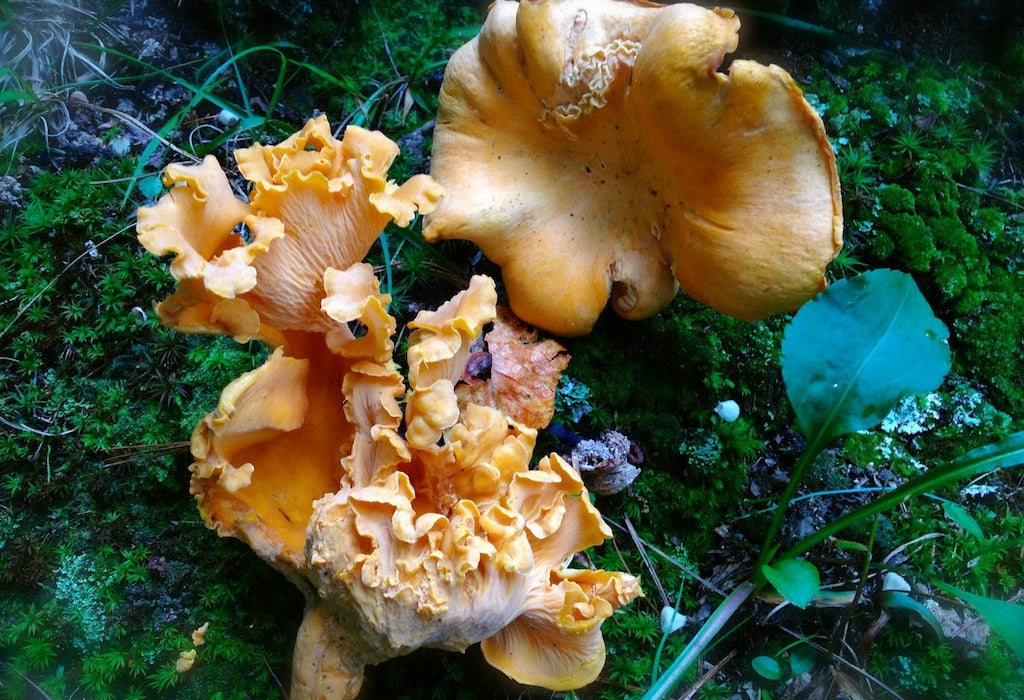 When I was growing up, "foraging" meant one of two things: cruising the aisles at my local Kroger for a really great deal or dumpster diving, which can produce 100 free donuts if you know when to look.
Turns out, true foraging pre-dates my adolescent suburban version by about 200,000 years, and even today, it can land you some really amazing eats.
Ask Alan Muskat. He is founder of The
Asheville Wild Foods Market
, the first market specializing in foraged edibles in North America. Alan supplies some of North Carolina's top names with found edibles--Biltmore Estate, Grove Park Inn, Lantern Restaurant. They all serve food that has been raised, picked, caught, and carried in from the wild, often by Alan's two hands.
[caption id="attachment_8564" align="alignright" width="258"]
Alan Muskat (right) and foragers with their finds.[/caption]
Not only does Alan know where to forage, he's also more than happy to show you. Take one of his
classes
, and you'll experience nature in a whole new way. Alan will guide you to found-food hotspots, some deep in the forest, others just a stone's throw from people's yards.
And he says that if you're a mushroom lover, now is the prime time to go. Chanterelles, lobster mushrooms, and milk caps are all over the place during August and September, just waiting to become part of your meal.
Why not make a weekend of it?
One of the areas most relaxing retreats,
Sourwood Inn
, makes it easy. Just ten minutes from downtown Asheville, this cedar and stone charmer sits on 100 acres at 3,200 feet. It offers a Wild Food Package that covers two people, including two nights lodging; full breakfasts; a three hour foraging adventure with Alan; a signed copy of
Wild Mushrooms: A Taste of Enchantment
; and an optional wild food dinner at Zambra, a popular tapas restaurant in Asheville.
[caption id="attachment_8567" align="alignleft" width="301"]
Sourwood Inn.[/caption]
Zambra is one of about fifty area eateries that serve food found by Alan, so wild food dining options abound. They include
The Market Place
, the granddaddy of farm-to-table restaurants and Alan's longest standing customer. Since 1979, this Asheville institution has been melding cuisines from around the world with Appalachian traditions.
When The Market Place's Chef William Dissen heard that The Revivalist was running this piece, he graciously opened his recipe book and handpicked a dish that features the wild fungi that are so abundant this time of year.
Let us know if you try Chef Dissen's Foraged Mushroom Gratin or if you've found wild food of your own. Berries, mushrooms, wild onions, ramps--what has the forest provided for your dinner table?
*
Foraged Mushroom Gratin
from Chef William Dissen
The Market Place Restaurant
(yields 4 portions)
Ingredients
2 tablespoons olive oil
2 tablespoons butter
2 quarts wild mushrooms, cleaned, large dice
1 cup shallots, medium dice
1 tablespoon garlic, minced
1.5 cups white wine
1 cup heavy cream
1 tablespoon basil, chopped
1 tablespoon parsley, chopped
1 tablespoon thyme, chopped
salt and pepper to taste
For parmesan herb crust:
1.5 cups Panko Bread Crumbs
¼ cup parmesan reggiano
1 teaspoon basil, chopped
1 teaspoon parsley, chopped
1 teaspoon thyme, chopped
salt and pepper to taste
Method
Preheat oven broiler to medium high heat.
To prepare the Parmesan Herb Crust, place the panko bread crumbs in a food processor and blend on high to thoroughly process. Add parmesan, herbs and salt and pepper. Taste and adjust seasoning, if necessary. Reserve.
Heat a medium sauté pan over high heat. Add olive oil and 1 tablespoon of butter.
When pan is lightly smoking, add the shallots and sauté for 1 minute, or until golden. Stir in the mushrooms and garlic. Reduce the heat to medium high.
Cover the pan and continue to sauté for 1 minute. Uncover the pan and deglaze with the white wine. Cook, reducing the wine to a glaze and stir in the heavy cream. Reduce by half.
Stir in the remaining butter, herbs and salt and pepper. Taste & reseason, if necessary.
Place mushroom mixture into 4 ramekins & liberally sprinkle with the Parmesan Herb Crust.
Place ramekins under the broiler and cook until the crust is golden brown.
Serve immediately.