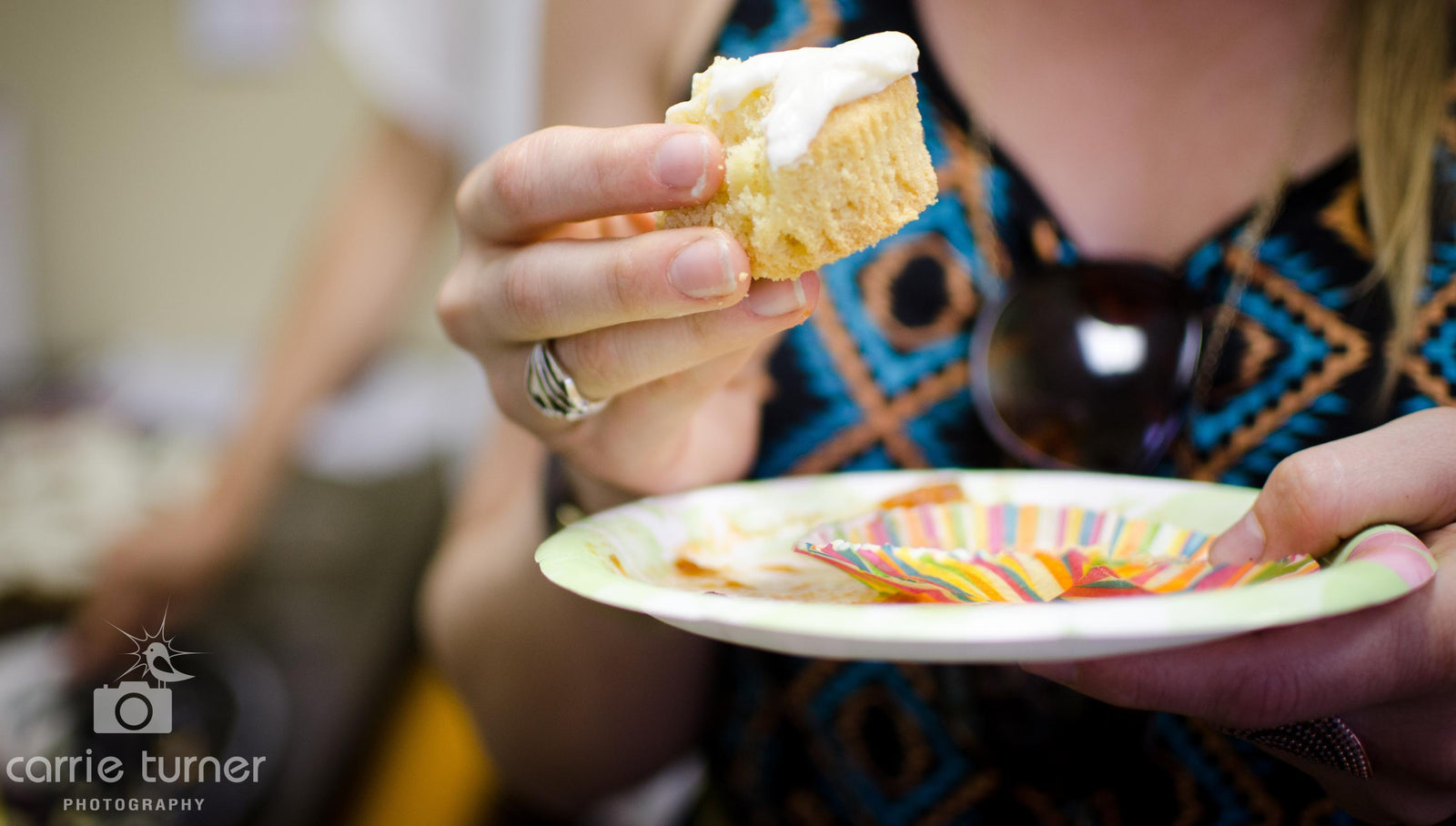 Last week's cider-themed post was such a hit, I had to keep the apple-ish fun coming. While researching regional ciders, I stumbled across a dish that knocked my socks off. It was mentioned deep in the blog for Asheville's newest cidery,
Noble Cider
.
Back in May, the company's owners invited a handful of restauranters, bar owners, and mixologists to the premiere of their product, and in all her marketing wisdom, Joanna Baker, Noble's PR guru, knew that liquid cider, while delicious, was not enough. These folks would need to nosh, so she personally whipped up a trio of cider based foods—cider chutney to go with cheese and crackers, BBQ with cider BBQ sauce, and cupcakes with a cider frosting that threatened to upstage their product launch.
As soon as I spotted the above photo, I emailed Joanna and begged her to share the recipe with us. She sent a link right off to
Cupcakes OMG
, where she learned about the dish, and told me that folks wolfed down these baked delights.
"Anytime you add booze to a pastry," she said, "It's always going to be a hit!"
When I asked her what they tasted like, she said, "The traditionally heavy cream cheese icing lightened up with the addition of the hard cider. It had a hint of apple and a hint of alcohol - a perfect balance."
I mean, yum. I haven't had a chance to bake a batch yet, but if you do, please post a comment, letting us know how they turn out.
*
Cider Pumpkin Cupcakes
(Yields about 2 dozen cupcakes)
2 cup of all purpose flour
1 3/4 teaspoon of baking powder
3/4 teaspoon of baking soda
3/4 teaspoon salt
2 teaspoon of ground cinnamon
1 1/4 teaspoon of ground ginger
1 teaspoon of ground nutmeg
3 room temperature eggs
1 room temperature egg white
1 15 oz. can of pureed pumpkin (not the pie filling)
1 cup sugar
1 cup brown sugar
3/4 cup vegetable oil
1/2 cup sweet, hard cider
Cider Cream Cheese frosting 
This will likely make much more than you need--either half the recipe or freeze the leftover
1  brick of cream cheese
2 sticks unsalted butter at room temperature
1/2 teaspoon of pumpkin pie spice
1/4 cup cider
4-6 cups powdered sugar, depending on how sweet you like it
Caramel sauce for drizzling
1. Line two cupcake tins; pre-heat oven to 400--we'll drop this to 350 once you pop the cupcakes in.
2. Combine flour, baking powder, soda, and spices in a bowl. Set aside.
3. Using a stand or hand mixer, combine eggs, pumpkin, sugars, oil, and cider until it resembles a boozy baby food.
4. In small batches, add the flour mixture to the wet ingredients. Mix until just incorporated.
5. Using an ice cream scoop, fill cupcake liners about 3/4 full
6. Pop these bad boys into the oven, and immediately drop the temp from 400 to 350 for 20-25 minutes, or until a toothpick comes out clean. This helps you achieve the beautiful dome effect.
7. While the cupcakes cool, make the frosting. Start by whipping the butter and cream cheese together until light and fluffy. Then add the spices and cider.Add powdered sugar 1 cup at a time.
8. Once cupcakes are completely cooled, pipe frosting onto cupcakes. Adorn with drizzles of caramel.
Notes: Joanna thought Noble cider would be too dry, so she used a store-bought cider. Also, since she made these in the summer, she used white cake mix rather than making pumpkin cupcakes. She also omitted the caramel sauce. Sounds like the changes worked just fine.