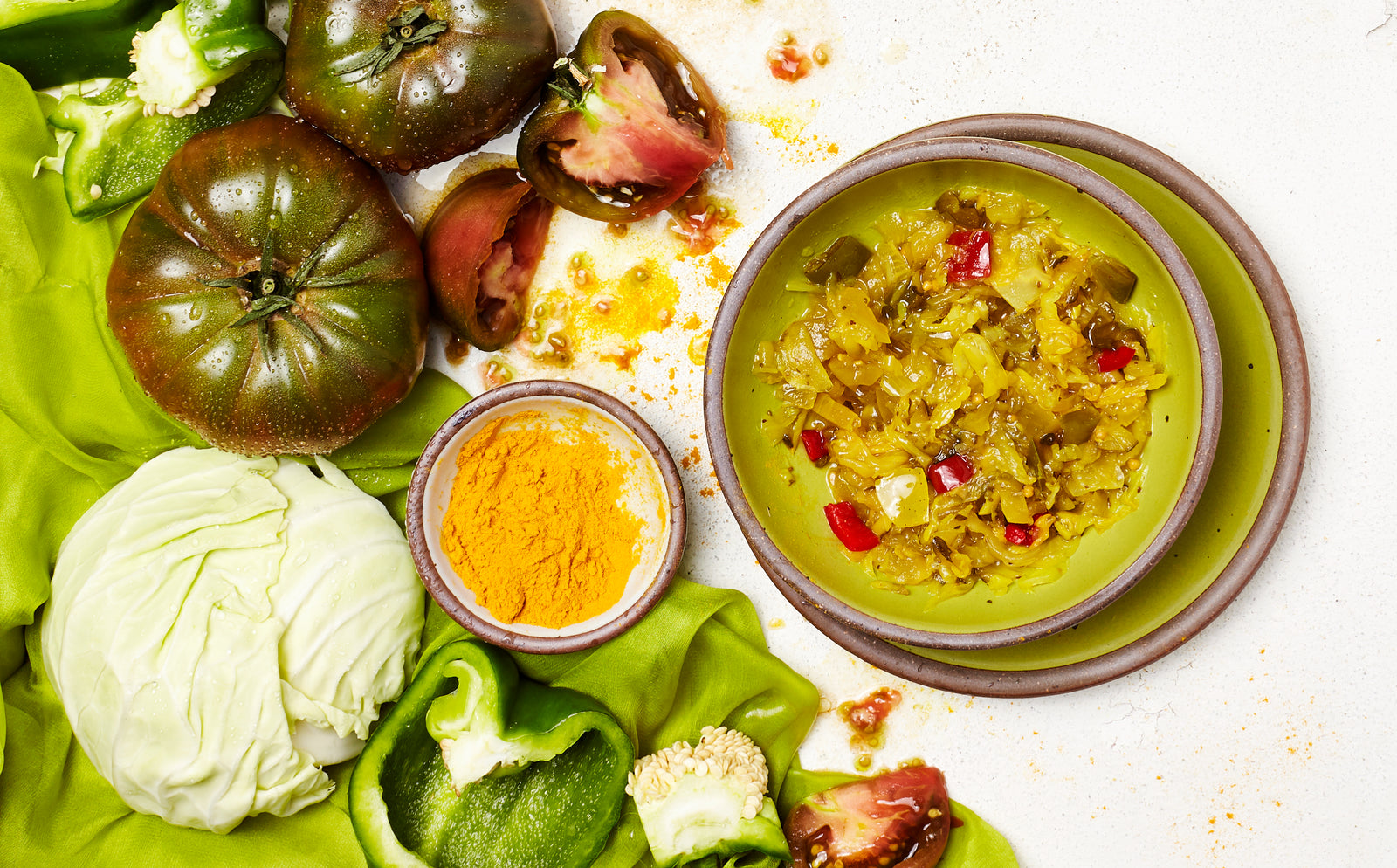 I don't know that it's possible in Appalachia, but if your granny didn't teach you how to make chow chow, we have a treat for you. The below recipe was crafted by a team of chefs, farmers, and food fanatics who adore our region's signature relish so much, they named their new food festival after it.
Chow Chow, the event, will bring some of the nation's biggest food stars to Asheville, September 12 to 15, 2019, and promises to cement the Paris of the South's reputation as a culinary mecca.
It's helmed by restauranteur Katie Button, the chef and entrepreneur who sets up (and sometimes breaks down) food ventures faster than most of us make coffee. In 2011, she opened the Spanish influenced Curate, which was lauded as one of the 40 most important restaurants in the last 40 years by Food & Wine magazine. On the heels of writing a cookbook with the same name, she opened Nightbell, an upscale bar that pulled heavily from Appalachian food traditions. While it was hit, Katie made a tough choice and closed Nightbell, shifting her attention to Button & Co. Bagels, which opened last year and, now, Chow Chow, the festival that will spotlight Appalachia's creative spirit while bringing together all kinds of makers—from celebrity chefs to multi-generational farmers to millers, bakers, potters, weavers, and brewers.
And still, Katie still found time to chat with us!
The below interview has been edited a bit for brevity's sake. Also, be sure to post a comment—how do you like to eat your chow chow? And do you have a favorite recipe?

TR: What inspired Chow Chow—both the event and its name? 
KB: Asheville is a city of makers, from beekeepers to farmers, to brewers, distillers, chefs, potters, glassblowers, it is pretty amazing everything that this city has to offer. We wanted a festival that celebrated all of the makers that come together around what we are calling the "creative table." As for the name, we loved the name Chow Chow because it incorporated a little bit of education about the region we are in, Southern Appalachia, and a pickle relish that is at the core of the food culture and history here.

TR: What are the must-do sessions for fans of Appalachian cooking? 
KB: Pickled in the Park is our main event throughout the weekend, and it should not be missed. There will be a makers market, tons of local and nationals chefs and beverage professionals, live music, demonstrations, educational experiences, and you will get to see some of our makers in action in our technique area. It will be the best way to learn the most about our corner of Appalachia. Each day will have different chefs and makers. On Friday in the park, Vivian Howard will be doing a conversation about pickles throughout the world and across North Carolina, and Ashley English and Barbara Swell will be doing a demo of cooking chow chow.
TR: I noticed that you all use the words "Appalachia" and "Blue Ridge" a lot, but I also see that chefs are coming from all over the country. Is this an Appalachian food event or a food event set in Appalachia? 
KB: It is a food event set in Appalachia. Therefore there will be lots of influence by the ingredients, culture, and traditions of the region popping up throughout the festival, however this festival is not exclusively about Appalachia. We are inviting chefs and friends of ours to come cook beside us, learn more about Asheville, the Blue Ridge Mountains, and Southern Appalachia, and take what they learn back to their own communities.
TR: For folks who are visiting our mountains for the first time—celebrity and otherwise—what do you hope they take away from the experience? 
KB: I hope they learn something. We have really wanted to make all of our programming to have an educational element as well as a collaborative element inviting different types of makers to collaborate and work together at each event.
TR: You invited people to host "non-official" activities around the event? What's the most exciting ones you've seen?
KB: I'm super excited that Cherry Bombe [a magazine described by one of its founders as "food, femininity, and a kind of fierceness'] will be here hosting a panel discussion. I love what they do and the voice that they have in the restaurant industry, supporting women.