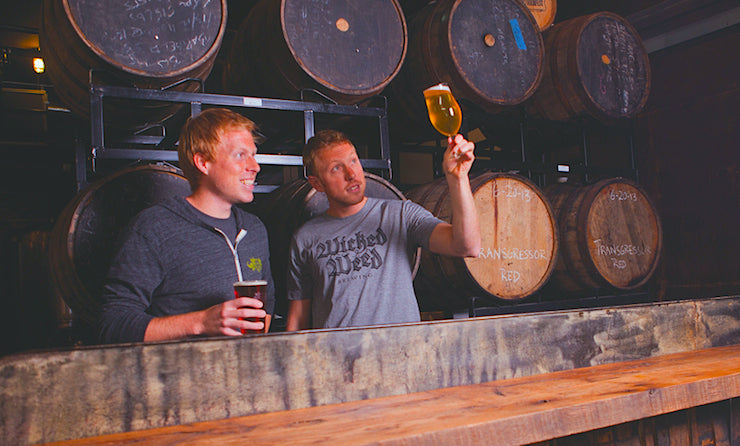 After being named Beer City USA four years in a row, you'd think it would be hard for Asheville to have a banner year for brewskies. That said, 2014 looks like it could actually break new ground. It starts with the release of the official
2014 Asheville Beer Calendar
. Featuring gorgeous photos from the local brew scene, the calendar is a hot item in area bookstores and bars. (Don't worry, out-of-towners; you can also order it
online
.)
The calendar's creator, Christopher "Critter" Thomas of Asheville Brewery Tours, made sure his images didn't start and end with breweries. "I wanted to include some retail, and I wanted to include some production," said Thomas. He added a hops farm, a traditional floor malting facility, and beer-serving eateries to the mix, explaining, "They help tell the story of Asheville beer."
[caption id="attachment_9057" align="alignright" width="287"]
Sierra Nevada's new brewery in Mills River, North Carolina.[/caption]
Once you have your calendar in hand, get a pen. You might want to mark some big dates in 2014, starting with the long-awaited opening of Sierra Nevada's East Coast production facility. The building is complete, and many employees are in-place. For months, they've been testing batch after batch of this legendary brewery's most popular brands, including Sierra Nevada Stout, Pale Ale, and Torpedo.
When it 
opens early this year
, the facility will deliver beer 
faster
 and fresher across the eastern United States, and it will be a boost to the local economy, employing
 80-100 full-time staff plus another 40-60 part timers who will work the tap room and restaurant and lead brewery tours.
Turns out, Sierra Nevada isn't the only major brewery opening a facility in Asheville. In May,
New Belgium
will begin constructing a huge plant in the city's River Arts District, which, starting in 2015, will churn our 500,000 barrels of beer annually. 
Also, area micro-brew Catawba Brewing Co. will open a "boutique" satellite brewery in Biltmore Village. With a tasting room on the second floor, this new facility will focus on specialty and seasonal offerings. "This will give us the much-needed ability to make the small batch, highly diverse beers we just don't have the room to do in our Morganton location," said co-owner Billy Pyatt. 
[caption id="attachment_9064" align="alignleft" width="228"]
The New Look for Highland Brewing Co. beers.[/caption]
Changes in 2014 don't end at brew houses. They extend clear to grocers' shelves, where customers will see a new look for Asheville's oldest beer. Now in its 20th year, Highland Brewing Co. is giving its five year-round brews facelifts. "Craft beer drinkers are conscientious about their beer," said Leah Wong Ashburn, Vice President at the company. That's why the new bottles will feature bolder, cleaner colors and more info about the beer itself.
All of these changes are good for Asheville, but what about the rest of the Appalachian South?
Whether you're in Kentucky, Maryland or West Virginia, there are pluses for you too. 2014 will make it easier to buy beer that supports the Appalachian economy wherever you are, and every news story on Asheville's beer boom helps distill those nasty 
Deliverance
-esque stereotypes that have plagued our mountains for centuries.
So let's raise our glasses, bottles, and mugs. Here's to the year of beer in Asheville!