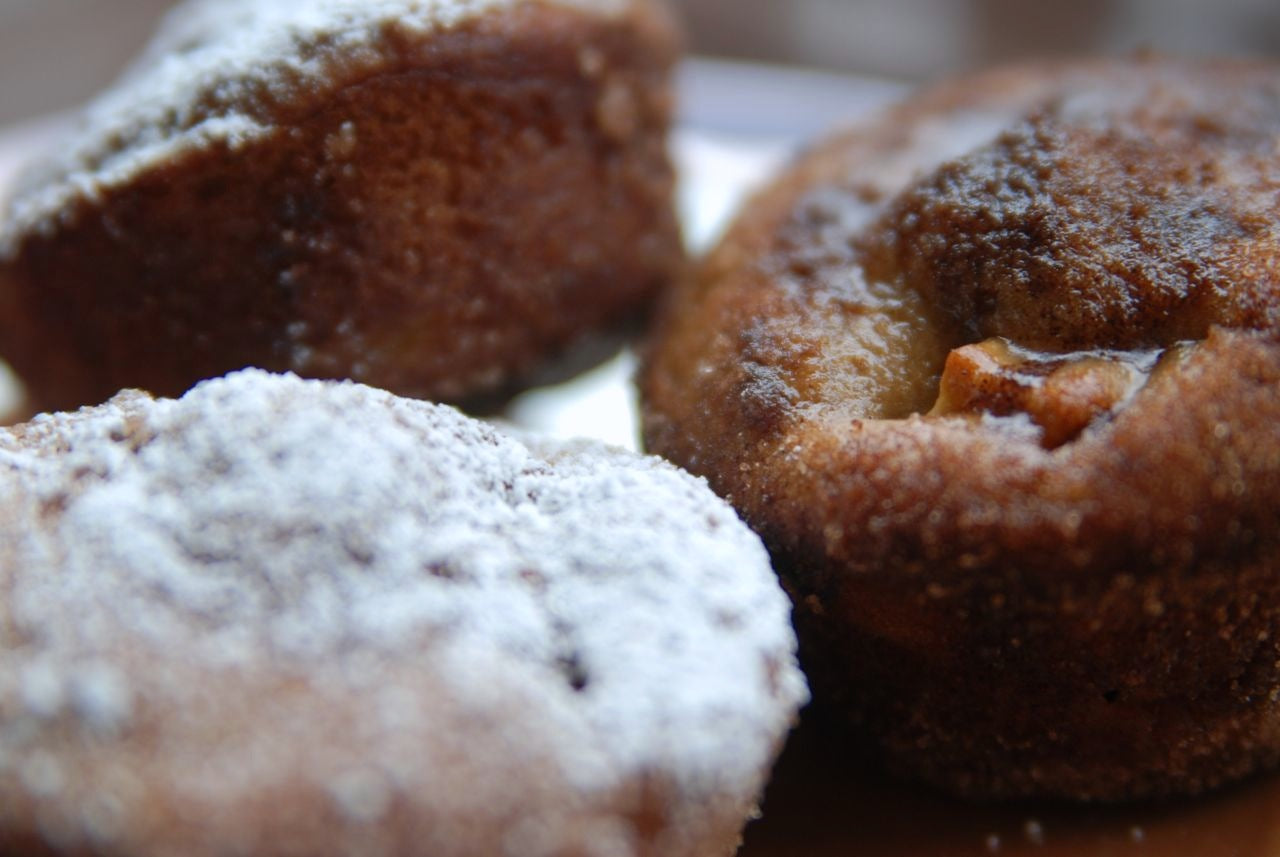 Y'all know I love apple butter. I spread it on toast; I eat it with biscuits; and (as noted elsewhere) I gobble it down straight from the spoon. I've yet to find a bad way to eat the stuff, but I keep trying.
This week, I started scrounging the internet for a new method to infuse apple butter into my diet. I had a hankering for some kind of baked good, so I skipped over apple butter glazed ham and apple butter casserole. There were a dozen recipes for apple butter bread, but none wowed me. I kept clicking, determined to find a dish that elevated apple butter to a new level, that took my favorite food, lit solid rocket boosters on either side its jar, and sent it into orbit.
I know. Lofty goals just beg for failure, but not this day. A truly magnificent name and a miracle of culinary engineering popped onto my screen.
APPLE BUTTER DOUGHNUT MUFFINS
Before I clicked those dizzying words, I tried to make sense of their combination. Apple butter + doughtnut + muffin? I mean, is this kind of excess even legal?
One glance. That's all it took, and I knew it was time to fish out my muffin tin. Sixteen ingredients and one hour later, I was biting into a mini-cake that exceeded my towering expectations. It was gooey and doughy with chewy bits of apple in the middle. It was sweet on top of sweet. It was satisfying beyond words. To experience the real joy of these delights, you just need to bake some.
Go now. Seriously. Go and gather your ingredients. I know you've got other stuff to do, but you'll thank me. When you're done, come back and tell us how these baked goods were more life changing than a month-long retreat with Oprah.
*
Apple Butter Doughnut Muffins
yields 12 muffins
Adapted from Everyday Food by
Apt 2B Baking Co.
Used with permission here. (Thank you, Yossy!)
The results of this recipe rest heavily on the apple butter you choose to use in this recipe. The apple butter I make at home is lightly sweetened and spiced so the amounts of additional sugar and spice in this recipe reflect that. If your apple butter is heavily spiced you may want to hold off on adding additional spices, but do make sure there is a bit of nutmeg in there. The nutmeg is the key to the donutty flavor. I imagine they would also bake up quite nicely in a doughnut pan.
12 3/4 ounces all purpose flour
2 1/2 teaspoons baking powder
1/4 teaspoon baking soda
1 teaspoon salt
1/4 teaspoon nutmeg
1/8 teaspoon allspice
5 ounces softened butter
3 3/4 ounces brown sugar
2 eggs
1 teaspoon vanilla extract
4 ounces buttermilk
8 ounces prepared apple butter
1 small apple, peeled and diced into 1/4'' cubes
For the Topping/Coating

3.5 ounces granulated sugar
2 1/2 teaspoons cinnamon
2 ounces melted butter
1 ounce confectioner's sugar (optional)
Preheat oven to 350º and butter and flour a 12 cup muffin tin
1. In a medium bowl, whisk together flour, baking soda, baking powder, salt and spices. In another small bowl whisk together the buttermilk and apple butter.
2. In the bowl of a stand mixer, or in an electric mixer, beat the butter and brown sugar until light and fluffy. Add the egg, then add the vanilla extract.
3. With the mixer on low, add the flour mixture in three additions alternating with the apple butter mixture. Remove the bowl from the mixer and gently fold in the diced apple by hand. The mixture will be very thick.
4. Scoop 1/3 cup batter into each muffin cup and bake until a toothpick inserted into the center of the muffin comes out clean, about 30 minutes.
5. While the muffins are baking prepare the topping by mixing the cinnamon and sugar together in a small bowl. Let the muffins cool in the pan for 10 minutes. Then, working with one at a time, brush the muffins with butter and toss to coat in the cinnamon sugar mixture. When completely cool, dust with confectioner's sugar (optional). These muffins taste best the day that they are made.