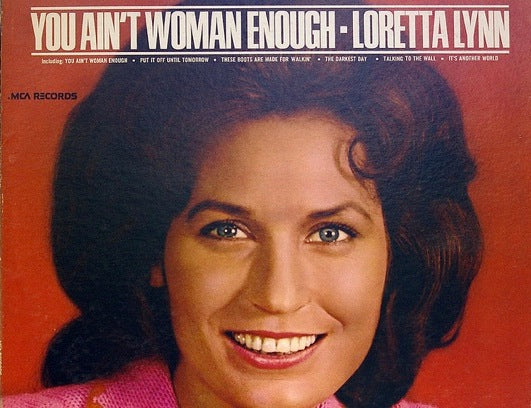 Y'all heard the news?
TV star and indie music darling Zooey Deschanel will be playing Loretta on Broadway. I got this story straight from the good folks at
LorettaLynn.com
.
*
Country Music Hall of Fame member Loretta Lynn is taking her life story to Broadway, and she has tapped film and TV actress Zooey Deschanel to play her on stage.
Lynn, 80, unveiled plans for a musical adaptation of "Coal Miner's Daughter" during a Grand Ole Opry show at the Ryman Auditorium on Thursday night. Wearing one of her signature long sleeve, floor length dresses, the singer blew through four songs before bringing Deschanel onstage to sing the title tune.
The announcement mirrored the way Lynn invited actress Spacek on the Opry stage in 1979 to reveal that Spacek would play her in the upcoming film. Spacek later won an Academy Award for her portrayal of Lynn.
"I have a friend here tonight. I don't know if ya'll remember when Sissy Spacek was with me. I brought her out here with me. She about fainted. We both fainted," Lynn said with a laugh. "She went on to do the 'Coal Miner's Daughter,' and you know from there. Well, there's a little girl back stage that's going to do the play of 'Coal Miner's Daughter' on Broadway," Lynn continued. "Zooey, where you at honey?"
Deschanel, 32, the star and a producer of the Fox comedy "New Girl," then emerged in a short, vintage-inspired white dress. She grabbed Lynn's hand and flashed a dazzling smile.
"Are you going to help me sing 'Coal Miner's Daughter'?" asked Lynn. "I'm going to help you sing," said Deschanel, who has been nominated for a Grammy Award. "This is a great honor for me. This is my hero."
The two traded verses and they ended the song holding hands. "Coal Miner's Daughter" was a No. 1 hit for Lynn in 1970 that she wrote about growing up as one of eight children in rural Kentucky. It became the title of her 1976 autobiography and the basis for the 1980 movie, starring Sissy Spacek, which traces Lynn's rise from humble beginnings into one of country music's most beloved singers.
In 1972, Lynn became the first woman to be named Entertainer of the Year by the Country Music Association. Among the songs performed in the film are "You Ain't Woman Enough to Take My Man," "You're Looking at Country," "I'm a Honky Tonk Girl," and the title song.
Plans for a stage adaptation are still in the beginning stages, with no creative team attached or workshop dates announced. The producers – Fox Theatricals and Scott Sanders Productions – have been behind such Broadway hits as "Legally Blonde," `'The Color Purple," `'Red" and "Thoroughly Modern Millie."
Deschanel has starred in such films as "Elf," "(500) Days of Summer" and "Your Highness." Producers of the musical said their schedule would not conflict with the actress "New Girl" commitments. Deschanel also has a musical side. She has appeared on some of her movie soundtracks and in a jazz cabaret act called If All the Stars Were Pretty Babies. She has also released three albums with M. Ward as the folk-rock duo She & Him, and she performed three songs for the recent animated film "Winnie the Pooh." One of those songs, "So Long," was nominated for a Grammy in the category of Best Song Written For Visual Media.
During the surprise duet Thursday as part of the Grand Ole Opry Country Classics, Deschanel sang her parts strong, with a convincing lilt in her voice. As the music faded out, Lynn said to the crowd, "Don't forget her name. Her name is Zooey."
And with that, another coal miner's daughter was born.
[youtube]Ik-SmxpQtWk[/youtube]