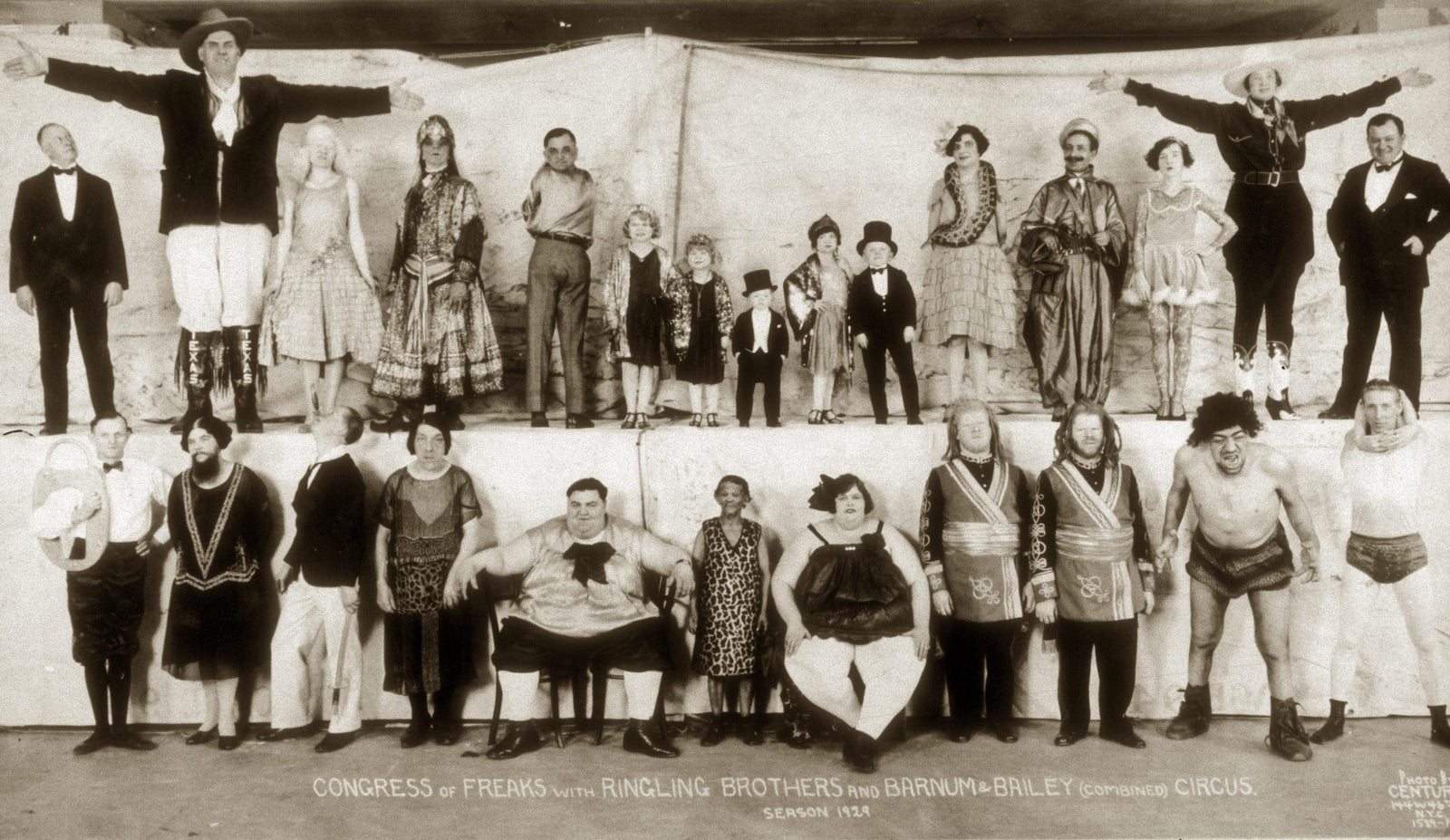 A 1929 Ringling Brothers & Barnum-Bailey sideshow photo showed the Muse brothers (front row, slightly to the right) along with other performers who found both refuge and exploitation in the circus. (Edward J. Kelty photograph courtesy of the John and Mable Ringling Museum of Art, Tibbals Collection)
In Roanoke, the Muse brothers were legends. For about half their lives, they were traded between circuses. Their genetic disorder—albinism—left their skin unusually pale and their eyes pink-tinged plus they wore their hair in dreadlocks. Today, they may not sound too exotic, but during the first decades of the 20th century, their appearances made them one of the era's most popular and enduring sideshow acts. Billed as everything from cannibals to martians, the brothers toured the U.S. and Europe, sometimes getting paid, sometimes being swindled by their managers, white men who, for years, told them that their African-American mother was dead.
A young journalist named Beth Macy moved to Roanoke in 1989. By then, the Muse brothers had long since returned to the area. George, the older and more outgoing of the two, had actually passed away some years before. Willie, who was approaching 100-years-old, rarely left the attic of his house in Roanoke's Rugby neighborhood, just a few dozen miles from Truevine, the hamlet where he was born.
Theirs was the best story in town, Beth was told, but also the least accessible. "No one's been able to get it," one photographer said, and she soon learned why.
Nancy Saunders, great-niece to the Muse brothers, ran her soul food restaurant like a drill sergeant. "The first time I asked if I could interview Willie Muse," Beth wrote in her bestselling book "Truevine," "...she pointed to a homemade sign on the Goody Shop wall. A customer had stenciled the words in black block letters...SIT DOWN AND SHUT UP."
Most anyone else would have given up there and then, but Beth is the rarest kind of journalist. Rather than bouncing from a small paper to a mid-sized one, trying to work her way to one of the big boys, she stayed at The Roanoke Times for more than twenty years and told stories of local underdogs—a gay man whose name had been removed from his partner's obituary, a wife struggling to care for her husband as dementia stole his mind. Between researching and writing what must have been hundreds of pieces, Beth kept visiting the Goody Shop.
In time, she learned why Nancy was so protective. From the day George and Willie returned to the area, they were treated like oddities. Strangers, both black and white, came to their house, insisting that relatives bring them outside so they could have a look. Children in the family were subjected to taunts. "Your uncles eat raw meat!" classmates would shout, having learned about the brothers as a cautionary tale. Don't end up like those Muse boys, black parents told their children, a stranger nabbed them from a tobacco field when they were little and turned them into circus slaves.
Sometimes it was easy to sort fact from fiction. The brothers, of course, did not eat raw meat. But their origin story, how they ended up in the circus, was more nuanced. Beth found it hard to believe that their mother, an illiterate but savvy sharecropper who was both alive during their circus years and ready to fight for her sons, could have been so easily duped.
Nancy disagreed. Even as she warmed to the idea of sharing her uncles' story, she held to the version she'd always heard, one Willie himself had told her, "a man luring him and his brother into the back of his wagon with a piece of candy."
As much as anything, "Truevine" is about this unlikely partnership—two women sorting through a provocative and often brutal history. Beth combed archives. Nancy talked to relatives. They both uncovered clues about the brothers' difficult lives, many in the form of photos.
"George's chin is raised, almost defiantly, while Willie looks straight into the camera," Beth wrote about one image. "His right hand is held in the playing style known as clawhammer, thumb out from the body of the banjo and fingers tucked."
Clawhammer is, of course, a technique popular with mountain musicians, but it's unlikely Willie learned it in Truevine. When he left, he was only six-years-old. He probably picked it up from minstrels, who also favored this style and, perhaps unwittingly, provided the younger Muse with a connection to his homeland.
Beth called this photo her "favorite from the stack," and that stack was large. Time and again, she described images of the brothers and people they knew—literal giants and pygmies, sword swallowers, and pinheads, outsiders who embraced the word "freak" because it carved a place for them in society, who worked the sideshows because it was the only living they could make.
Without these shots, it would have been tough to reconstruct the Muse brothers' story and harder still to glean who they were as boys and later men, how they changed over time. A downward glance or a tattered sleeve sometimes conveyed more than all their old circus posters combined.
Time caught up with Willie. He passed some fifteen years before Beth wrote "Truevine." As the book neared completion, she and a photographer visited Nancy's house, where they took new pictures, including shots of Willie's attic room. Before they left, Nancy slipped Beth a quote she'd found in the newspaper, one by the philosopher Voltaire.
"To the living we owe respect, but to the dead we owe only the truth."
When you look at the below photos, what kind of truth do you see? What stands out as you peer back through time and study the faces of George, Willie, and their mother Harriett Muse?

Edward J. Kelty took this picture of the brothers for Ringling Brothers & Barnum-Bailey Circus in 1926 with the handwritten caption 'Are They Ambassadors from Mars.' The brothers hadn't seen their mother in at least twelve years at that point. (Courtesy of Circus World Museum)
Even though he was blind late in life, Willie Muse always kept this framed photo of his mother, Harriett Muse, next to his bed. (Courtesy of Nancy Saunders)

"The Muse brothers were widely considered 'good examples of contented freaks,'" wrote The New Yorker magazine, which snidely reported that the brothers returned to the circus [after a stint back home] because 'the fried chicken had soon given out at Roanoke.' (Collection of Robert Stauffer)
All photos used with permission from Little, Brown and Company.