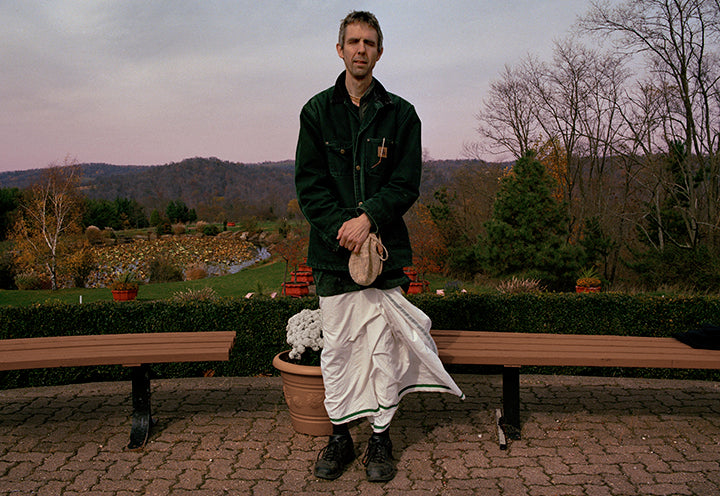 Photos provided by Aaron Blum.
Scan the rolling hilltops of West Virginia, and what would you expect to see—an old coal tipple, boulders, the crumbling remains of a settler's cabin? How about a gilded palace with colorful windows inspired by peacocks surrounded by an award-winning rose garden and a hundred or so fountains?
For over forty years, Marshall County has been the site of New Vrindaban, one of the largest Hare Krishna communities in the U.S. Filled with ornate touches—stained glass, real gold, and crystal—the temple at the heart of this community has been called America's Taj Mahal, but to photographer Aaron Blum, the people who live there have always simply been his neighbors.

"They just were part of my hometown just like anyone else," Aaron told me in a recent interview. He saw Krishnas as he was growing up, sometimes wearing their tell-tale saffron robes, and while they stood out, he didn't give them much thought until he was older, when he began encountering them at punk rock shows.
"The Krishnas were always there serving food, and as long as you would talk with them about religion they would give the food to you for free," he said and with a pause adding, "I am a sucker for pineapple chutney!"
It wasn't long before Aaron visited New Vrindaban, and he started doing so just like anyone else. Tourists are welcome.
"In fact, they're counting on it," Aaron said, "a large part of their income is based in tourism," but he visited so often he began to make friends and eventually secured permission from the community's head of public relations to photograph freely.
What emerged was a riveting collection of images entitled Almost Heaven.
These photos spotlight what, on the one hand, seems like an unlikely community for West Virginia but, on the other, is actually in keeping with many Appalachian traditions.
"When I'm there I'm constantly thinking about how so many others had come to the hills of Appalachia to isolate themselves for protection, religion, solitude, freedom," Aaron said, "and the Krishnas have a very simple lifestyle, like so many other country people."

In spite of its emphases on simple living and its bucolic setting, New Vrindaban has seen dark periods. In the 1980s, two of the community's resident were killed by a third. The murderer claimed that the group's leader, Swami Bhaktipada, was behind the killings, and later, Bhaktipada did plead guilty of conspiring to commit murders-for-hire.
For a time, the group went into a tailspin, losing many members, letting its grounds fall into disrepair, and even being excommunicated from the International Society for Krishna Consciousness.
But thirty years can heal many wounds. It has at New Vrindaban, which is again a member of the Krishna's governing body and has a new leader, Jaya Krishna. This former Swiss businessman has revitalized the temple and gardens, and he is, at the same time, restoring the group's reputation."There is a completely new set of individuals there," Aaron said, "and they could not be more wonderful."
Today's residents form a unique melting-pot, adhering to Hare Krishna religious traditions while also being influenced by West Virginia culture. In Aaron's photos, you see how this plays out. Krishna robes are worn with Carharrt jackets and beaded necklaces with work boots.
"They exist in both worlds simultaneously," the photographer said, "so it is easy to see how they borrow from each lifestyle."
Want to see for yourself how the worlds of eastern religion and Appalachian heritage come together?
New Vrindaban invites everyone to visit. The Palace of Gold is open according to a seasonal schedule, and the community offers newly-remodeled guest houses to those wishing to stay overnight. If you go or if you've been before, let us know what you think. Are the temple and grounds as pretty as they look? How do you see the merger of cultures working? And what do you think of the Krishna chow?
Aaron says he's hooked on their samosas!