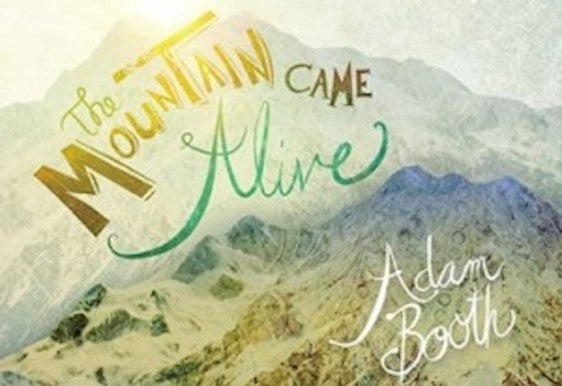 With the clock ticking, I still have blank spots in my Christmas list, and I just discovered a gift that could fill the last of them.
The Mountain Came Alive
is a stand-out, new album from West Virginia storyteller Adam Booth. With an innovative mix of spoken words and songs, Booth covers a year in the life of an old, Appalachian mountain—its final year. The mountain is slated to be destroyed as part of a mining operation.
Booth developed an itch to merge traditional music with current issues while touring the country, telling stories. "I found that there were a lot of young folks who didn't know quite know what Appalachia was," he said, "So I tried to put a lot of folk elements into this
and
also a lot of contemporary elements into it."
The result is magical. The album opens with a nearly five-minute piece that celebrates all the creatures who call the mountain home. From hemlock to swirling vines to baby opossum to insects to fish and birds to people with different jobs and appearances and beliefs—they're all there, and they remind us just how much life one mountain can support. It's an inspiring opening that makes the rest of the story that much more heartbreaking.
In terms a child could understand and an adult can appreciate, Booth conveys the complexity behind mountain top removal. "Deep inside the mountain there are precious things that have high value, and there are some people who want to get at these precious things," he recites during "News Comes to the Mountain," and he continues with a simple line that shows the other side of this important issue. "But on top of the mountain, there are precious things that have high value too."
Following in the steps of children's art classics like the cartoon
A Charlie Brown Christmas
, Shel Silverstein's book
The Giving Tree
, and the film
The Red Balloon
, Booth delivers powerful messages by presenting them in understated terms, and during this season of caring, he manages to remind us that all life—our species and every other—deserves our love and caring.
Here's a sample with lovely crazy quilt graphics. What do you think? Will
The Mountain Came Alive
 fill some blanks on your Christmas list too?
https://www.youtube.com/watch?v=p1oaQXsbj8M&feature=player_embedded#at=24
* Thanks to
West Virginia Public Broadcasting
 for contributing content to this post.