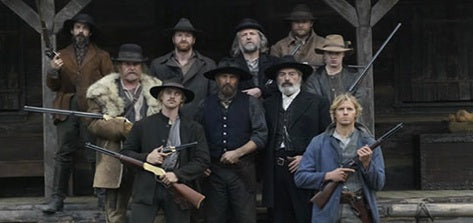 Now I wish I hadn't let go of cable TV. Last night
Hatfields and McCoys
premiered on The History Channel. This dramatic mini-series stars stars Kevin Costner as Devil Anse Hatfield, Bill Paxton as Randall McCoy, and Tom Berenger as the uncle of Devil Anse.
Nikki Bowman was lucky enough to attend the premiere. On
WVLiving.com
, she wrote...
"After I adjusted to the accents, rich in Shakespearean English, it immediately transported me to post-Civil War Appalachia, when the region was still trying to figure out its place in the country. The gothic scenery—unfortunately, it was filmed in Romania and not the Tug River Valley due to production costs—and the deftly portrayed characters capture an important time in West Virginian and American history by illustrating that the iconic feud was greater and much more involved than a simple dispute over a pig."
In addition to being a complex film that shows the depth of America's most famous feud, it also has interesting online extensions. You can find more videos, background on the two families' members, and a fun
Hatfields and McCoys
quiz on
The History Channel
website.
Unfortunately, the online features don't include the premiere episode, which aired last night. I've not been able to find it anywhere online, so for now, I'll have to rely on you for updates.
Part two airs tonight at 9/8c. If you watch it, please tell me what it's like!
[youtube]IYIWdXYm8bc[/youtube]