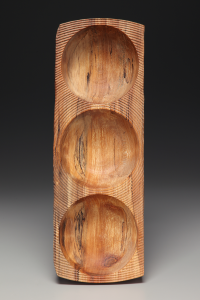 When we visited Asheville a few weeks back, the work of local artists was everywhere--in galleries, in coffee shops, lining downtown sidewalks on tabletops, and even at a tailgate farmer's market out by UNCA.
We picked a few of our favorites. Now you can pick yours. Check out the below works and vote for the one you like best. 
[polldaddy poll="5261907"] 
Linwood Wood Carving
Just North of Asheville alongside the French Broad River lies Marshall, North Carolina, home to Blue Hill Farms, which produces great looking course ground grits and these beautiful hand carved spoons.
I was so struck the middle one--the spoon that tappers into an elegant elongated bird's head--I forgot to ask the woodcarver his name. He had a bushy beard and a friendly disposition. He seemed to be a regular at the UNCA tailgate farmer's market. If anyone knows him, by all means, let us know. He deserves so much praise for his beautifully carved utensils.  
Anonymous Mugs
I've got to be better about capturing artists names--missed this one too. Luckily, I did capture a shot of two whimsical mugs in Clingman Cafe, a tasty spot in Asheville's visit-it-while-it's-still-hip River Arts District. I'm not sure who the little lady is teasing, but her devil horn stance is just strange enough to make me dig her. 
Blue Mountain Bowls
Walking outside the Grove Arcade, I passed table after table of local crafts. Many were lovely, but one struck me as being truly "museum quality".
Carl Pittman
has carved bowls into remarkable art pieces. Some are fully functional; some are meant to be displayed, maybe behind lucite with lasers protecting them. They're that nice.
The bowl pictured here stands out for me. It is simple and earthy with a prominent grain. The concentric rings are thin and even, almost as if they were painted atop the golden hue of the bowl's base color. Also, I'm a sucker for things that come in threes--the holy trinity, french hens, musketeers-stuff like that.