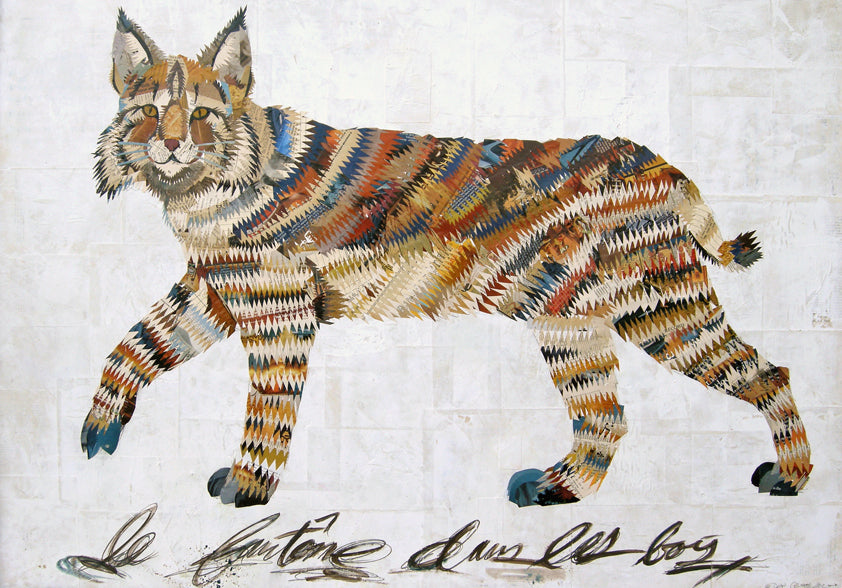 Dolan Geiman
likes to live in places where people were never meant to live. He was raised in a Civil War hospital in Virginia's Shenandoah Valley. His father converted the building into a livable space when he was young, setting a trend for Dolan.
When the artist struck out on his own, he moved to an abandoned warehouse in Stuarts Draft. Gutter punks were his housemates, and the streets of nearby Charlottesville served as a marketplace for his creations. It wasn't a bad setup at first, but then one person was stabbed in the sprawling warehouse he called home and then another. "It got kind of hectic," Dolan explains in the below interview, "I thought I better move out of there."
This time, the move was big, at least in one way. Dolan relocated all the way to Chicago, but he still ended up in another deserted warehouse. He turned this one into a live/work space that included a makeshift gallery, which served as a launchpad for his career.
Dolan's art sort of reflects this scrappy start.
"I use a lot of found objects," he says, "but I don't use them for what they are. Like, I'll find a golf club and I'll cut it into thirty pieces and kind of rearrange those pieces, weld them together or tie them together and then nail them to a board or something like that...I'm not just taking something at its face value."
The result is remarkable. With nature themes drawn from his Blue Ridge childhood, his piece's are heartwarming yet unruly, like Dolan is some crazy quilter who decided that fabric just wasn't enough.
Inspecting his work, you'll find an old ruler fashioned into a bear's back and a revolver barrel made of bullets. This delightful mix has turned heads across the country. You can spot Dolan's art in a slew of restaurants, hotels, and resorts, along with YouTube's Chicago office. It's been featured in Fast Company, on HGTV House Hunters, and in daily papers from Detroit to Miami. It even shows up in movies, including the 2010 remake of 
A Nightmare on Elm Street, 
and let's be honest, when Freddie Cruger is splattering blood across your artwork, that's when you know you've
really
made it!
Ready to pick up one of Dolan's creations?
You can find them on his
Etsy store
and in
shops
across the country.
I'd love to hear which of his pieces is your favorite. And since Dolan is always looking for new ideas, what animal, person, or object would you like to see him make out of found materials next?
https://www.youtube.com/watch?v=wPmNoVmff_o