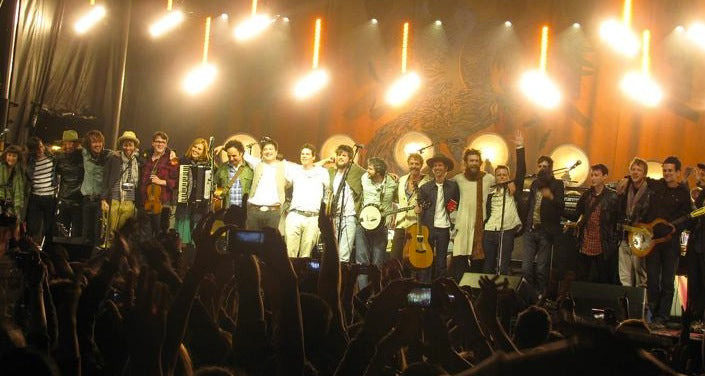 Remember Old Crow Medicine Show's "
tour of dreams
?"
This is their ride in vintage train cars from San Francisco to New Orleans. With two other alt-folkish bands--Mumford & Sons and Edward Sharp & The Magnetic Zeroes--they played outdoor shows in train yards and fields. They jammed all night as they rode the rails. They stopped to swim. They drank a lot. They flirted with one another. And they invited a local high school band to play onstage.
I know all of this because the trip was filmed. The documentary
Big Easy Express
captured some of the ride's hijinks but mostly its music. I watched it last night. I thought it was beautifully shot. The music was incredible. I was singing to my dog and clapping along. (Did I mention that I also had a little bourbon?)
At points, I wished for a hint o' plot or real interviews, something that helped me understand why band members kept calling this the trip of a lifetime. Instead I got music--jams in fields; jams onstage; jams in a half a dozen beautiful train cars; jams with footage of western landscapes running overtop them, shot from the top of the train, making me feel like I was sitting up there with the arid wind in my face, the desert and sharp mountains around me lit by the setting sun.
Maybe that's answer enough--2800 miles of breathtaking scenery, a week and half of nonstop music--that would make any musician say that they felt like" a beam of light was shooting down on them," that they were "riding into the magic," that this beautiful old train was "bound for glory."
Now you can see if you agree. 
Big Easy Express
is available on
iTunes
 for just $3.99, and the clip below provides a sneak peak. It's one of my favorite scenes. It's quiet at the front end, but stick with it. There's a big reward right around the middle.
What do you think? Is
Big Easy Express
a documentary masterpiece or a glorified music video? Maybe a little of both?
Leave your cheers and jeers below.
[youtube]Gt8yv_Kja3Q[/youtube]