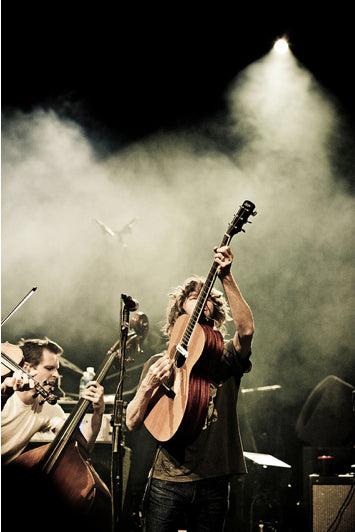 If you've heard songs from Old Crow Medicine Show, I'm sure you remember them. They play a mash-up of Appalachian old time, bluegrass, roots, country, and electrified folk that could inspire paralyzed toes to tap. Here's one now...
[youtube]HM2Ku0lmvWs[/youtube]
I've been to two of their shows. I left both hoarse and sweaty, thrilled to know that these boys have roots in my homeland. Founding band members Ketch Secor and Critter Fuqua are from Harrisonburg, Virginia. According to Wikipedia, Secor and Fuqua met in the seventh grade and began playing music together. They performed for James Madison University students at the
Little Grill Collective
's
open mic nights. "They knew that we had talent," Secor once told American Rhythm Music Magazine, "But it was raw. I mean, I was up there beating on a jaw harp when I was 13.'"
After a detour through the Appalachian North, where the boys picked up more band members, they landed in Boone, North Carolina. This is where things got magical. While busking outside Boone Drug, a local pharmacy, the daughter of music legend Doc Watson strolled by. She was so smitten with the band's sound, she told her famous daddy about them. Watson offered them a spot at his annual music festival MerleFest.
[caption id="attachment_5241" align="alignleft" width="143"]
Old Crow Medicine Show. Photo courtesy of Vince Kmeron.[/caption]
Old Crow Medicine Show rolled up in their vintage rags with their tattered instruments, and they burned the house down. They were discovered, signed, and before long, they moved to Nashville. After that, they went on the road. They must have toured across Hell and half of Georgia...twice. For a while there, every time I looked up, they were coming back to DC. Their hit single "Wagon Wheel" went gold.
And then, last April, they got on an old train in California and headed east on an epic trip. They joined two other pseudo-folk bands for a concept tour that makes my mouth water. Loaded up in vintage railroad cars, they travelled across half the country, stopping to play outdoor shows in fields and rail yards, all kinds of quirky locations along the way.
Lucky for us, there were cameras on board. They captured what one band member called the "tour of dreams." That footage became a raucous, roots-tinged documentary, called 
Big Easy Express,
which premieres today at South by Southwest, the Austin-based music, film and emerging technology festival.
The preview alone has me ready to ditch work and buy an airline ticket to Austin, but my more pragmatic better-half, Ryan, has shackled me to furniture to keep me in place. If anyone catches the premiere, for Heaven's sake, let us know if the full-length version looks half as good as this...
[youtube]WxDASw6Ry9c[/youtube]